Stoner admits to missing racing… But not enough to reurn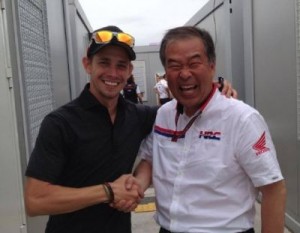 Former MotoGP star Casey Stoner has admitted he misses racing, but not enough to come back to MotoGP.
The two time MotoGP World Champion walked away from the sport at the end of 2012, claiming he had fallen out of love with the sport and the demands that went with it, and he just wanted to be with his family, and watch his daughter grow up.
Despite citing quite categorical reasons for his early retirement, this hasn't stopped intense speculation, especially in Spain, that Honda are still pursuing Stoner to make a return. This speculation was only heightened when it was revealed that Stoner was to do some development work on HRC's new production Honda.
When Stoner made an appearance in Texas this past weekend, silly season went into over-drive ranging from he was in talks with Honda over a Phillip Island wild card to a return with Ducati for 2015. However most of these were soon treated with the distain in which they deserve, especially once Stoner spent time in Seattle with close friend and defending AMA Supercross Champion Ryan Villopoto.
Stoner did have time to speak to Vogue Italy whilst in Texas, and it was with there where Stoner admitted he did miss racing.
"I miss some things, some sensations I felt when I was racing, but they're not enough to make me want to come back," he told Vogue.
He also spoke about missing his team and mechanics who followed him from Ducati to Honda, and described them as family.
"What I really miss is my team of mechanics and engineers, those who have followed me from Ducati to Honda. It was a family."
Stoner did say that if he were to return to MotoGP, it could be to aid Australian riders. Stoner has been very outspoken in the past about the difficulties he faced getting into Grand Prix racing, and how he had to move to the UK, and then Spain in order to get his chance. Something which current Moto3 points leader, and fellow Aussie Jack Miller will also agree with. Miller spent the majority of his junior racing career in Spain and Germany. 
"I do not think there are schools for riders, in fact, in my personal experience I've had a difficult relationship with the authorities, who were more of an obstace, than helpful on my way to the top."