Lorenzo 'wasn't thinking' during jump start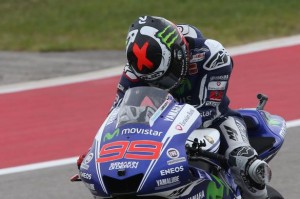 Jorge Lorenzo has admitted he 'wasn't thinking' during his jump start in the Texas Grand Prix at the Circuit of the America's.
Lorenzo jumped the start massively, and looked like he was caught out with the red lights turning on.
Speaking after the race, Lorenzo said: "I wasn't thinking and was distracted and I made a big mistake in the start.
"I just tried to push at the maximum afterwards to get the best result but the race was almost over for me."
After coming in to the pits at the end of the first lap to serve his ride through penalty, Lorenzo battled back to finish the race in 10th position, cutting through the slower open bikes on his way into the points.
"I want to say sorry to the team as I destroyed my race, but at least I didn't crash because it was a difficult situation with the tension and it was easy to make a mistake and get injured."
Forever the optimist, Lorenzo looked for a silver lining on his race.
"The good thing is that I finished the race and got my first points in the championship but clearly it wasn't our weekend," said the Mallorcan.
There was however no resentment in the Yamaha team towards Lorenzo, as team manager Massimo Meregalli said, it was just an honest mistake.
"No matter how hard you prepare for a race weekend there are some things that cannot be anticipated," said the Italian.
"We all know he is one of the hardest working riders here and very rarely makes a mistake.
"He did a good job to make the best of it afterwards. I want to thank all the team for another weekend spent working extremely hard to overcome challenges and make a competitive bike for the race, we are looking forward to Argentina to come back even stronger."