Exclusive John Hopkins interview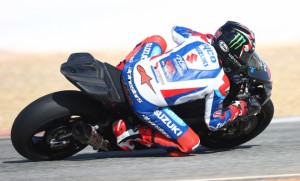 When John Hopkins announced he wouldn't be racing in 2013 the whole motorcycle world was disappointed. From Knockhill to Phillip Island, 'Hopper' is loved throughout. But after his year out Hopper is back, and ready to win the BSB title he was 0.006s away from winning back in 2011.
Hopkins will be remembered by many for race three at Brands Hatch in 2011, others will remember him for his time in MotoGP which was filled with great racing, memorable moments, and unfortunately bad crashes, as well as the smiling happy personality that endeared him to fans.
Unfortunately a combination of injuries and bad luck saw his time in MotoGP come to an end in just before the 2009 season when Kawasaki pulled the plug on their MotoGP effort leaving him without a ride.
Subsequent spells in World Superbikes, AMA and British Superbikes, Hopkins looked to be getting back to his former self, however a crash at the start of the 2012 season meant he needed time away to recover from his injuries. He took that time away in 2013, and he is now back in BSB and hopes to go one better than he managed in 2011.
The time away was beneficial to Hopper who has had a good preseason. Speaking exclusively to GPxtra Hopper said he's feeling better than he has for years.
"I'm doing very well thanks. Its no doubt been a rough few years physically as well as mentally but I'm feeling better than I have done in years," he said.
"Pre-season's been good. We've had an extremely dry & sunny winter in California so I've just been riding as much motocross as I can along with my Mountain Bike etc. After not being on a race bike for over 16 months, I've been working on getting myself back to "Bike Fit" on top of the general fitness."
The time away from the sport came just at the right time for Hopkins meaning he could listen to doctor's orders for the first time. However despite a year from racing it was anything but a year spent on the sofa. He kept himself busy with his ambassadorial work.
"After all the injuries and 30+ surgeries, I definitely don't feel like an 18 year-old anymore, but I can honestly say I am feeling better physically than I have done in years!
"Last year started off with a big hip surgery, followed by a few months of physical therapy and for probably the 1st time in my career actually listened to "Doctors orders" and gave myself proper time to heal! Also did a fair amount of ambassador work with Monster Energy at quite a few events within the US, UK and Europe. Best of all, had a beautiful baby girl we called Everleigh with my wife Ashleigh."
With everything settling down and coming together off the track, hopefully Hopper can get some stability on the track too. This season he is back in BSB with the Tyco Suzuki team and back on the GSX-R1000, which he rode back in 2011 in BSB and in 2012 World Superbikes, something, which helped Hopper as he got back on a bike for the first time in over a year, a few weeks back in Cartagena.
"For sure, I wanted to get back on a bike I'm obviously very familiar with and know suits my riding style.
"I really enjoyed the test! Not going to lie, I was a little nervous to begin with after all the time off, but the GSXR felt great and I was able to get comfortable pretty quickly. On top of that, the Tyco Suzuki team is a great team with a lot of knowledge and experience so that surely made things a bit easier."
Hopper said the decision to come back to BSB was an easy one once the call came asking him to come back. For somebody who had been racing professionally for over 10 years Hopper missed being on the bike and racing, so he simply couldn't turn down the Tyco offer.
"I missed being on a race bike and most importantly racing itself! Once I finally got my body back in shape and had the proper time to recover, I couldn't help but want to get back to racing! Obviously BSB is a great, competitive championship and I still feel I have a point to prove so the choice to race BSB was easy…"
Despite his time away Hopper managed to stay up to date with BSB, and despite so much changing from his year in the paddock, he feels his track knowledge may come in handy this season, compared to having to learn the circuits again.
"I actually have a pretty similar approach (to 2011) but having knowledge of the circuits this season will be a big help."
Of course I followed BSB (over the last two years). I always keep up with all forms of different racing championships, but BSB always tends to be one of the most exciting."
Hopper spent five seasons in MotoGP with Suzuki, claiming four podiums in 2007 where he finished fourth in the Championship behind Stoner, Pedrosa and Rossi. So with the news that Suzuki will be returning to MotoGP in 2015 there were rumours of Hopkins returning to MotoGP in some capacity, whether it be as a racer, or to help test in 2014. However Hopper doesn't have any plans with Suzuki yet for a ride on the new GSVR, however he wouldn't say no despite focusing on the task in hand in BSB.
"Right now I'm only focused on the job at hand, which is trying to secure my 1st ever BSB Championship! Of course I'd like to try and have a test on the new GSVR this year but there's no concrete plans as of yet. I'm really excited and glad to see Suzuki planning to make a GP return that's for sure! Everyone I've spoke to say it's a great package and already capable of getting good results."
When asked if he would take the opportunity of a ride in MotoGP with the GSVR should the opportunity present, he said: "I'm just taking things one step at a time! I'd no doubt love the opportunity in the future, but my main focus is BSB at the moment."
Hopkins will probably be the favourite for the 2014 crown, and although it won't be easy to claim the crown, he has admitted he would be disappointed if he did end the year not as champion.
"Of course there will be some level of disappointment if I don't win the title but, I'm going into this season wanting to win the Championship! It's not going to be easy by any means with all the strong competition but I'm going to give it 110% that's for sure!"