Aleix Espargaro: The last weeks have been the best in my life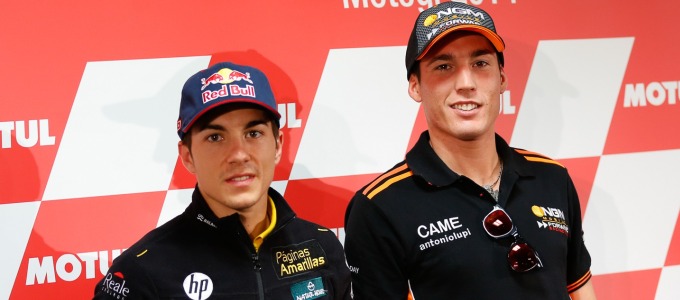 Aragon runner up, and new Suzuki MotoGP factory rider Aleix Espargaro has described the past weeks as the best in his life. 
Espargaro achieved his first podium in the MotoGP class, and his best career result to date last time out in Aragon when he secured second place behind race winner Jorge Lorenzo. It was only his second ever Grand Prix podium, with his previous best result a third place in the Catalan Moto2 race in 2011. 
Then, following his home podium, a day later in Cologne, Aleix was confirmed as a factory MotoGP rider for next season. Suzuki announced that they would be coming back to MotoGP, and fielding a two man team of Aleix Espargaro and Maverick Viñales for 2015 and '16.
Despite seemingly the world and his wife knowing the announcement was coming, and where he would be next season, it was a relief for Aleix to have the move confirmed and made official, making his dream of becoming a factory rider come true.
"The last weeks have been amongst the best in my life, especially with the race at Aragon, finishing in second place behind Jorge was like a dream," said the elated Espargaro in the pre-race press conference in Motegi. 
"This year we were doing a couple of good races, for example at Assen, where we were in touch with the podium, but finishing second in Aragon was fantastic. A dream. Now we are looking forward to the next races and trying to finish this season in the best way and try to achieve another podium if we can.
"It is really exciting with this new project with Suzuki. It is not going to be easy because we have to do a lot of work with the bike, but I feel like I'm at the best moment in my career. Also it will be a big responsibility to be part of Suzuki because it is a big brand. So I'll try my best. I'll try to develop the bike as fast as I can to achieve good results."
He continued, "I chose Suzuki because I think everyone in this paddock would like to be a factory rider. Also in 2016 there will be a lot of changes to the regulations and I think if you are in a factory team it will be easier to adapt to the new rules."
Aleix also had his say on his compatriot and team-mate for next season Maverick Viñales. The 19-year old will be making his debut in the premier class next season, but Espargaro doesn't think he will struggle. He expects to be fighting with him through most of the season.
"For sure he is really talented. I've said a couple of times; he is the best rider in the Moto2 class. So Suzuki made a great decision to take him for the next two or three years. He says to me that he has no experience so I need to develop the bike, but he knows perfectly that he will be there after the first test.
"It is important also to have a team-mate with a good level because then this makes you quicker and faster every time. So I'm looking forward to starting this new, exciting adventure."