Rossi plans to renew contract with Yamaha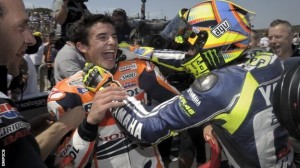 Nine-times World Champion Valentino Rossi has said he thinks he will renew with Yamaha next season, quashing rumours of retirement.
Valentino Rossi turned 35 earlier this year, and with his Yamaha contract expiring at the end of the season, there were rumours that the Doctor was considering retiring at the end of the 2014 season. However Rossi has denied these rumours, suggesting he is ready to renew his contact with Yamaha.
Rossi returned for a second spell with Yamaha after claiming four MotoGP titles in his first stint, and before a horror spell he is back with Yamaha, and even won at the cathedral of Motorsport, Assen last season.
After last weekends opening MotoGP, in which Rossi ran Marquez very close, he was interviewed by Sky Italia, where he discussed his 2015 plans.
"I think I will renew with Yamaha. I never had the idea of quitting, I feel in good form and above all racing gives me immense pleasure," explained the Italian.
"It's the most enjoyable thing in my life, I love this world and I love the lifestyle which comes with being a MotoGP rider, training hard and traveling the world. As long as I am competitive I hope to continue."
"Now it's key to see how competitive we can be in Texas and in Argentina and see if we really are at a better level than in 2013. Last year the Qatar race went well but this year the second place was an even better performance in the race.
"I've ridden at a good level throughout my career but now it is more difficult. We have to be very competitive and we know that winning the World title again is really hard, but if we're near the front every Sunday that is fine."
He was then asked who he thought would win the MotoGP title. He smiled and responded in a manner in which you wouldn't have ever imagined five years ago.
"I think Marquez will be the World Champion again," he said. "I'll try to give him a little luck."
Rossi was also asked what has been the favourite bike he had ridden over his 19 year career, Rossi responded, "I have ridden so many beautiful bikes, Aprilia, Honda and Ducati. But my favourite bike is definitely the Yamaha M1!"