Marquez confident of retaining his title ahead of Qatar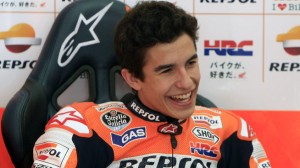 Defending champion Marc Marquez is confident ahead of the 2014 MotoGP World Championship, even if entering the series as reigning champion is a new challenge to him.
The 21 year-old hasn't had the chance to defend his title in either of the Moto2 or 125cc (Moto3) classes as he has immediately jumped up a class, and admits that will be a new sensation to him.
Despite sitting out the second Sepang test, and the subsequent tyre test in Phillip Island, Marquez is confident that he can successfully defend his title in 2014.
In an interview with the official MotoGP website, the World Champion explained the new sensation of defending his title.
"It will be interesting to have the experience of defending a title, as before I always won a class and moved on to the next one. This year, even though I am staying in the same class, it is a new challenge for me. I've never had this experience before and think it will be nice. I'm not running the number 1 late, because 93 has brought me luck and I did not want to change it, but I know I'm the current champion regardless and we will try to defend the title."
When asked about pressure he faces as the defending champion, Marquez admitted it was still there.
"The pressure is there: To be champion, to defend the title. I'll have to be careful, because right from the first session we will have the world watching us. For the first race we have the excuse of having missed preseason, so also we ourselves will have to see how it goes. The important thing is to get points and then in Austin it will be another normal weekend," replied the Spaniard.
Marquez' injury is progressing along alright, although he is conscious and doesn't want to aggravate the injury further by crashing in Qatar.
"We're getting better. The bone is mending, which is important, and every time I have a review with Dr. Mir he tells me that my condition is improving," he said. "I'm gradually exercising more, so we'll see how we are in Qatar. Clearly I will not be 100 % fit, but I shall try to be as prepared as possible.
"Obviously I would prefer to get to Qatar fully prepared after a normal preseason, but the situation is what it is. I'll have to be patient, especially in the first practice, as it's been about a month and a half since I last got on the bike. The fact that the first Sepang test went very well and we were able to try many things gives us piece of mind, but it is clear that we have things still on the 'to do' list from preseason so we will have to work a little harder at the first few races. The priority in Qatar is to take things calmly."
When asked for a prediction on the season, Marquez wasn't shy in revealing his thoughts.
"My prediction for MotoGP is, although it sounds bad: Me first and Dani second to cap Repsol Honda's 20th anniversary, and Jorge third," he said.