MotoGP season preview – More Spanish domination ahead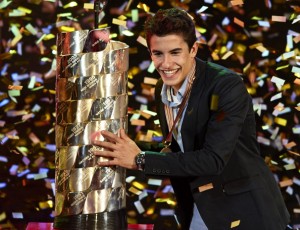 With proceedings in 2014 officially getting underway tomorrow, we will take a look at the final class of Grand Prix racing, and it's the big one, it's MotoGP.
The last two MotoGP World Champions have been Spanish, and 30 of the past 36 MotoGP races have been won by the Spanish trio of Marc Marquez, Dani Pedrosa and Jorge Lorenzo, and this year looks like another year of Spanish domination.
With the new Open class being introduced for 2014 we have some new faces closer to the front, even though it looks like a long order to expect any new winners unless something totally untoward happens, which of course we all know is a very real possibility in Grand Prix racing.
Pre-season was a strange one in MotoGP with not a clear favourite being established from the testing. Marc Marquez led all three days in Sepang One before his testing injury, Bautista, Pedrosa and Rossi shared the spoils in the second Sepang test. Lorenzo was the fastest across the whole of the Phillip Island tyre tests, whilst Aleix Espargaro dominated in Qatar.
You would be stupid to discount Marquez from contention. The reigning champion dominated the opening test in Sepang, setting a new lap record in the process, and would've been nailed on favourite had he not injured himself, meaning he will be starting the season at less than 100%. Now we have seen that this doesn't stop him being fast, reference Silverstone last year when he dislocated his shoulder in morning warm up before loosing on the final corner to Lorenzo. Marquez is the bookies favourite and is as short as 4/5 with some bookies, and the others will have to hope to build a bit of a cushion up before he clicks again.
Dani Pedrosa will hope that this year is his year. I could copy and paste most of what was written about him last year and nobody would be any wiser, but you get the feeling it really is do or die now for the Spaniard with the Repsol Honda squad. Robbed of world titles by cruel injuries, he is about to start his ninth season with HRC and as of yet 0 titles to his name. With a rookie team mate World Champion from last year the pressure is on Pedrosa this year, and he has to perform.
Pedrosa has small aims for the season to improve his race craft, making sure he is on the right end of the tight results this year. Speaking to GPxtra from Sepang, Pedrosa said: "The races in 2013 were much more intense. There was always a lot of intensity in MotoGP with Casey and Jorge, but in 2013 we were almost always close together until the last lap. There were many more races in which two or three riders finished together.
"In these situations it is important to stay focused and to be precise, despite your tiredness or the fact that the bike is not performing at 100%."
Jorge Lorenzo will be determined to bounce back after missing out on the title last year by just four points at the end of the season. Struggling through pre season with the new Bridgestone tyres, and even refused to talk to the press after the second day of testing in the second test in Sepang. But with progress on the last day, and a positive test in Australia, Lorenzo will have confidence back with his M1 and will be hoping to take advantage of a less than 100% Marquez and start the season on the right foot with a his third win in a row in Qatar.
Valentino Rossi appears a rejuvenated man in 2014. Gone is Jeremey Burgess after a successful and long relationship, and in comes Silvano Galbusera and the first indications show the Doctor made the right move. The Italian looks like the mostly likely candidate to break the Spanish strong hold in the MotoGP class, and going somewhat under the radar through testing Rossi has been close to the front and impressed with long run pace, even if he did encounter the same problems in Kuala Lumpur as his team mate did. Ross has spoken about his desire to challenge at the front again, and he looks like he's coming back as strong as ever for a dog fight in 2014.
The Ducati team are back with another new bike, and under new stewardship. Gigi Dall'Igna recruited in from Aprilia in the off season in an effort to sort the Ducati's problems, and a late move into the 'Factory 2' class mean its a very different GP14 this year. There is also the matter of Cal Crutchlow making the move from Tech 3 to the much coveted full factory ride. The Brit has taken time to get used to the Ducati, as you would expect, but Andrea Dovizioso has impressed with the new bike, and looks like he will be even competitive once the race weekends start and the Factory 2 perk's kick in.
In short the new perks as a non factory entry means Ducati will get more fuel, more engines and softer tyres this year, meaning their race pace should be higher with the privilege of running their engines harder. Despite the perks they don't look ready to challenge for race wins, however with the ability to continue to develop this engine hopefully in the second half of the season we see the Ducati in the front pack.
The biggest benefactor to the new Open Class rules has been Aleix Espargaro, the top CRT rider from the past two years has taken to his FTR-Yamaha like a duck to water, and has been constantly in the top five over testing. Much like the Ducati Forward Racing will get the Open benefits of fuel, engines and tyres, and they will be a real threat this season, causing an upset on more than one occasion. Don't be surprised to see Aleix claiming his first podium this year.
The satellite Honda duo of Alvaro Bautista and Stefan Bradl both enter 2014 in their third seasons with their current teams, and the teams will be wanting more from both of them. Bautsita impressed in pre season testing claiming fastest laps in Sepang and Qatar, however he remains with the Showa/Nissin combination, limiting expectations for him.
Bradl was quiet, but efficient during the pre season, and has just had the 'HRC expects' memo, meaning with a good year there may be the option of a factory seat next year should Pedrosa fail once again and he impress, however lots of ifs and buts for that to happen. Stefan will be focusing on getting on the podium, and building from there.
We also welcome Pol Espargaro and Scott Redding into MotoGP, coming up from Moto2 and the two had indifferent pre seasons.
Pol was progressing well on his Tech 3 Yamaha M1, running lap times similar to those of his team mates, before he crashed selecting a false neutral with less than half an hour left in pre season testing, resulting in a broken collar bone.
Redding's Honda RC hasn't been as successful as many had hoped, and it's been a busy pre season, but the young Brit is just over joyed to be in MotoGP, and he is targeting top production Honda, which would be a superb start in his rookie season, especially as it would entail beating 2006 World Champion Nicky Hayden on the same bike.
As you can see we are set for another great year in MotoGP, with more questions than answers at the moment, however hopefully after Qatar we will get a better picture of the race pace of the Ducati's and the Open entries. We will see how much Marquez' leg is hampering him, and we will see if the Yamaha's have managed to cure their issues with the new Bridgestones.
My prediction for the 2014 season is Jorge Lorenzo will emerge victorious, and claim his third premier class title. The Mallorcan has failed to retain his title on his previous two occasions, but as in 2012 he came back with force and I think it will be a similar story this season. Marquez will be fast and win races, as will Pedrosa, but Marquez' crash to injury ratio will start to claim sooner rather than later, and I think that could play into the hands of Lorenzo who was riding some of the best stuff of his career before his season was sent into panic stations after the Assen and Sachsenring crashes in 2013.
I think Espargaro and Dovizioso will both get at least one dry podium each, and I think Rossi will get back on the top step once again, however I do think it will be predominately a Spanish domination as per last year.
1. Jorge Lorenzo 2. Marc Marquez 3. Dani Pedrosa