Moto2 season preview – Just like picking a name out of a hat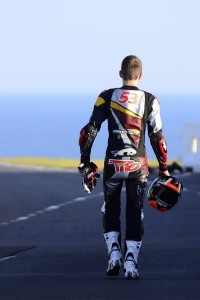 After yesterday's Moto3 season preview, today we are looking at the intermediate class of Grand Prix racing as we build up to the curtain raiser on Thursday.
The Moto2 class has been the most exciting and unpredictable class since its introduction in the 2010 season, and this year looks like being no different. With last years winner and runner up in Pol Espargaro and Scott Redding both moving up to MotoGP there will be a new winner in Moto2 this season, and early favourite for the title is Tito Rabat.
Rabat won three races last season on his way to finishing third place in the Moto2 standings, but a lack of support from his Pons team prompted him to jump ship from the championship winning side and join title rivals Marc VDS replacing Scott Redding and joining experienced Fin Mika Kallio.
It's a decision that appears to be vindicated as he has been fastest in two of the three tests in Valencia, Jerez and Phillip Island, and the only test in which he finished second was in Jerez, where he was just 0.064 behind team mate Mika Kallio. Indeed Kallio has also enjoyed, although he has found himself half a second behind Rabat in both Valencia and Phillip Island.
The dangerous Tom Lüthi has shown some of the talent that has been evident after a tough 2013 which saw him struggling after a horrific pre season crash last year, and despite not topping any timing sheets in the offseason, he hasn't been any lower than fourth position in any test, and never more than 0.35 seconds off the leader.
It has been a similar story for Takaaki Nakagami on his new Team Asia Kalex. Nakagami lead the final test in Jerez, less than three tenths off in Jerez and just over a tenth off in Valencia. The Japanese rider last year struggled staying on the bike in races however, and he will be hoping that with another year under his belt in Moto2 he will be able to progress further this season.
The best team last year, the Pons team has two new riders this season, and they both come with a high reputation. They welcome 2013 Moto3 World Champion Maverick Viñales and 2013 Moto3 bronze medalist Luis Salom. Viñales has been the brighter of the two thus far, second to Rabat in the first test in Valencia, and despite being a second and 0.6 off in the next two Jerez tests, its still a positive start for Mack.
The Aspar team have kept both of their riders for the 2014 season, with Nico Terol and Jordi Torres who will both be hoping to progress after both claiming one victory last season. Neither Terol nor Torres has set the world alight during pre season on their Suters. The will both be hoping that their race pace is higher than their testing pace.
There is also a new team in the 2014 season, we welcome Caterham Racing into the Moto2 class, and they will field Johan Zarco and rookie American Josh Herrin. Herrin comes into the Moto2 series as defending AMA Superbike Champion after beating Josh Hayes last season, and the young Californian can't wait to get going. "The Moto 2 bike is awesome," said Herrin speaking to GPxtra before the season opener. "It took a few days to get used to it and I still feel like I am learning every day I ride it but it is a great bike." Herrin will take time to learn the tracks and the bike with no previous data in store, however his inital tests show him just 1.5 seconds off the pace showing, showing the pace he has, and it'll only be a matter of time before he is up fighting for major points.
We only have one SpeedUp in Moto2 this season, and that is in the hands of 2013 World Supersport Champion Sam Lowes. The Briton has been struggling with injures through the pre season, including a strange wrist injury during the final test in Jerez, however he impressed early in Valencia finishing less than a second off of Rabat's pace.
One rider who we hope to see later in the year is Alex Mariñelarena on his Tech3 Mistral 610. Mariñelarena was involved in a train accident at the end of February and was then put in a coma as he sustained serious injuries. A week later he woke up, and was able to move his arms and legs.  We hope he continues to get better, and we see him soon. In the mean time, his bike will be ridden by Ricky Cardus.
As you can see there are a whole number of riders who could not only take a podium or a pole, but win a race and challenge for a World Championship, however much like Miller in the Moto3 class, with team experience and testing results Tito Rabat has to be the favourite for the 2014 Moto2 title.
I think Rabat's pace will ultimately see him claim the title, however it won't be easy, and he will be run very closely by Takaaki Nakagami, Tom Lüthi, Mika Kallio and Maverick Viñales.
1. Tito Rabat 2. Takaaki Nakagami 3. Mika Kallio