Ducati angling towards switch to open class bikes?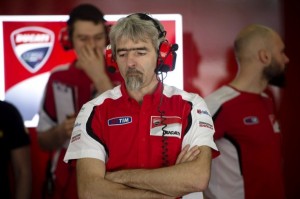 Ducati look set to make a surprise and somewhat controversial move by running their bikes in the new Open Class for the 2014 MotoGP World Championship.
Open Class bikes get an extra four litres of fuel per race, as well as having 'unfrozen' engines, meaning they can be worked on during the season. Along with allowing engine development, Open Class entries can use 12 engines for the season rather than the five factory bikes receive, with the added benefit of a softer Bridgestone tyre; it's easy to see why Ducati are considering the switch.
Despite having to sacrifice their own electronics package, the move would also allow Ducati more lee-way on development; competing in the Open Class allows teams to run engines closer to the edge with more fuel in them than they would be allowed as a factory entry.
There had been rumours circulating since the New Year to suggest that Ducati and Gigi Dall'Igna were considering a shock move of submitting all four of his bikes as Open Class entires, after Andrea Dovizioso accidentally leaked information suggesting so. Dall'igna has now admitted that the Open Class rules would favour the Ducati team in 2014.
Speaking to Italian site Moto.it Dall'Igna explained that he and his team had been looking into the Open Class option for 2014.
"We have been looking into it because the intention of MotoGP organiser Dorna Sports is that Open is the future," explained Dall'Igna.
"It is essential to start working on this programme. We had decided already back in Valencia to run three 'Factory' and one 'Open' bike this year. It is true, however, that the Factory rules are a bit restrictive for us because for Ducati it is essential to be able to develop the bike and find solutions for the current one.
"In the remaining weeks ahead of the next test, we will do our analysis and then make our choice."
Dall'Igna also described the current factory rules as "restrictive" further hinting towards a switch to the open class.
Should the change to the Open Class happen, it would have the support and understanding of new boy Cal Crutchlow.
Crutchlow, who spent the last week getting used to his new Ducati,  told MotorCycleNews in a recent interview that a move to the Open Class would be "clever".
"I think Gigi is very clever and I will go in which ever direction he wants because I am confident he knows what he is doing and he will make the correct decision," said Crutchlow.
"He is obviously looking at every single angle…from a perspective of racing it would be a very clever move if they do it and I will fully understand the reasons behind why they would want to do it. What Ducati need is development of the engine and I've always believed that is one of the key things for them. So if they have extra engines by going Open then that will obviously benefit us a lot."
"I'm excited to see what they are going to bring to Sepang [Editor's note: Interview in MCN took place before the first Sepang test] but I think what they will bring to Sepang 2 and Phillip Island (tests) will be more in the direction of what we will be going for in the season."
Ducati and Dall'Igna have to make a decision by the start of the second Sepang test which gets under way on February 26th.