Ducati not pleased about Factory 2 rules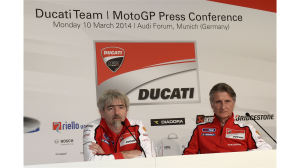 Ducati Corse used their official unveiling in Munich to express their unhappiness at the proposed new MotoGP Factory 2 class.
New Ducati Corse manager Gigi Dall'Igna said that he is 'not happy' about the new propsed class, although he did accept they may need a performance reduction.
Dorna and FIM say that the Factory 2 class is being added because the existing Open teams do not have the ability and resources to use the latest software update – and Ducati do.
As part of the open class, all software in 'open' and can be used by anybody. Ducati switch means their software is now accessible by anybody, but only they can harness it. Meaning they still have pretty much a private software system.
If the Factory 2 class gets indeed voted in by IRTA, then Ducati would be the first and only users in 2014. It would allow them to keep using their latest software, but would see their fuel allowance to drop down from 24 to 22.5, and would see their engine allocation drop from twelve to nine. The other perks such as the engine development and super soft qualifying tyres would still be there should Ducati wish to use them.
Speaking at the unveiling of the GP14 at the Audi Forum in Germany on Monday, Dall'Igna said: "The Ducati [Open] decision makes someone not so happy, but this is not our intention. We would like to develop the bike and with the Factory option we simply couldn't do it.
"To improve the bike it is important to change the bike and with the Factory option it is not possible to change the engine. Open has the possibility of twelve engines not five, we can develop the engines, we can test at more circuits. So the restrictions are less.
"For us the situation is quite clear and the option we choose is quite clear. And for sure this [Open] will be the future of MotoGP, because they have to reduce costs and this solution can help to reduce the costs of MotoGP."
The Grand Prix Commission met on Tuesday to finalise the rules, and despite no official word from them, the notion is understand to have gone through.
"It is really difficult to tell you what will happen. I know like you that the organiser is asking to introduce new Factory 2 rules. This is for sure something against us because the organiser is trying to reduce a little bit the possibilities of Ducati in MotoGP.
"But I have to live in the real world and so I can understand the organiser wants to introduce this rule change, because for sure the small teams cannot work like a Factory team. Like Ducati. And so for respect to the small teams, Dorna would like to introduce this new option, but we will see.
"For sure we are not happy, but we have to accept some compromises in life and I think this is one of these."