Marquez on top once again in Malaysia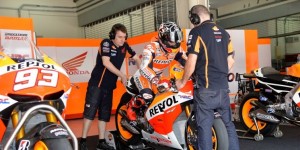 Marc Marquez ended the third day of MotoGP testing in Malaysia fastest once again, beating Casey Stoner's lap record in the process.
The World Champion was quickest on the first two days in Sepang, and he was once again in imperious form wasting little time in breaking Stoner's lap record, posting a 1'59.533 on his tenth lap of the day. Despite yesterday saying he wouldn't target the out-right lap record, Marquez showed sensational speed, including a stunning 18 lap run in which he lapped under a 2'01 in every lap other than one.
"I'm pretty happy with how the three days here in Sepang have gone and we have started the pre-season well," Marquez told the MotoGP website after the test. "This is only the first test and we still have work to do, but we've already been able to do a race simulation and it has all gone well.
"We have tried many setups and we have gathered a lot of data, so we will be well prepared for the next test here. We still have some things to try out, so we must make the most of the days we have remaining here this preseason.
"Physically I feel good, I haven't stopped over this past month and have had a packed schedule, but I have been able to continue training. I was a little weak here when I arrived, because I had the flu last week, but in the end I felt fine which is the most important thing. We can always improve and this test will help me to up my fitness."
It was a better day for Yamaha, with Valentino Rossi ending the day, and test second fastest. Jorge Lorenzo was third after a somewhat surprising first few days. Both riders put over 50 laps in today, with Rossi ending less than two tenths off Marquez' record, and Lorenzo less than three and a half tenths off the World Champion.
The Doctor was in very good spirits after the test, and is pleased at the outcome of the three days. "The test has been very good, I'm very happy, especially for the second position and more than that for the lap time which is the best of my career in Sepang. It's the first time under 2'00 for me and just one tenth from Marc and the overall record of the track," said the nine-time World Champion.
"I found a good feeling with the bike, we found some good solutions and it's been very positive," he added. "We tried a simulation in the afternoon that was very good to understand any problems. We suffered a bit to keep a good pace but it wasn't so bad. For the first test the balance was good."
Despite not ending the test fastest, Lorenzo wasn't too deterred by the progress made this week in Malaysia.
"I think we improved a lot the lap time from yesterday but I didn't make a perfect lap. Maybe with softer tyres we could make a 1'59.5 or a 1'59.6," said the two-time MotoGP World Champion. "The goal was not to improve the one lap time but to improve the race pace which we did. When we tried a race simulation in hot conditions we found some problems where we didn't expect it, so the pace wasn't as good as we wanted."
"We've only practised in one track though which isn't a Yamaha track historically, so let's see what happens at the next Malaysia test and the other tracks. The evolution and the improvement is big so I'm quite satisfied. To have a similar feeling to last year with less fuel is a big thing."
Despite Marquez' record breaking exploits, arguably the star of the first Sepang test was Forward Racing's Aleix Espargaro, who ended the test fourth fastest, and managed to lap under the two minute mark. The Catalan who is riding in his first proper test for the Forward Racing team since the switch from Aspar has produced three stunning tests that nobody could've predicted.
Espargaro's success will also put a huge smile on the faces of Dorna chiefs, with the new open class apparently working very well. The open class allows riders to have more fuel, different chassis and softer tyres, among other things, and the Yamaha-FTR package in the hands of Espargaro appears to be working well.
"I'm really happy with the bike and the team," beamed Espargaro much as we've now come to expect. "We made a good step forward with the setting of the machine but there is still a lot of work to do. Today we did a long run, but we are still struggling a lot when the tyres drop down. I'm confident because this is just the first test. We will all continue to work and I also have to adapt my riding style to the new machine. I couldn't leave Sepang with a better result!"
Stefan Bradl was fifth fastest, and ahead of factory rider Dani Pedrosa, in what was a hugely successful test for the German who this season is targeting podium finishes. Despite not breaking the two minute barrier the German was buoyed with what he's managed this week in Sepang.
"I am quite happy about the overall work we have done in the last three days," said Bradl. "There are some areas to improve like the braking stability but I feel good on this new bike. Today we focused on the race simulation but my long run was disrupted by a small issue with the rear brake. However I was able to proceed with my daily programme achieving a good feedback from the new hard compound. I hope that we can continue to improve in the next test."
Dani Pedrosa ended the day in sixth position, and despite knocking a tenth off his time from yesterday, it was once again a day of experiment and progress for the Spaniard who focused on the new chassis on his 2014 bike.
Speaking after the test, Pedrosa said: "On this third day we focused on the chassis, looking to gain more rear grip and I feel that we have made a lot of progress here. This morning we had a problem with the brakes on both bikes and I lost a lot of time, right in the part of the day in which you can put in a fast lap.
"However, I am happy that we were able to improve the setup and in general today was a positive day. At the next test, I hope that we can continue from where we left off today, and continue improving before moving on to Phillip Island."
Andrea Dovizioso concluded the test in seventh position, and will be glad to finish the test top Ducati after Pramac's Andrea Iannone managed to take that honour. Dovizioso and Ducati will be more encouraged by the fact that Dovi ended the test just 0.837s behind Marquez' record breaking lap time. Dovi was pleased with the progress made by the Italian brand, explaining he can now brake later and carry more speed into the corner, a problem which has been seemingly impossible to solve for Ducati. With further developments expected for the second Sepang test at the end of the month, it appears there may be encouraging times ahead for Ducati.
After the test, Dovi said: "I am really pleased with these three days of testing because we managed to do a good job and improve a lot. Now we can brake harder, corner entry is easier and quicker, we can accelerate a bit earlier and therefore use more power in the early acceleration phase. We also managed to set some quite fast lap times. In fact, I recorded a time that I had never before managed to do here in Malaysia on any bike, and this makes me happy."
Pol Espargaro was eighth, and just over a second behind Marquez. Marquez' exploits last year will have moved the bar for perceptions on rookies, although Espargaro has had a very strong three days in Malaysia, ending the test ahead of team mate Bradley Smith.
After ending the first two days top Ducati Andrea Iannone ended the test in ninth position, managing to lap under a 2'01, in what is more encouraging signs for Ducati. Alvaro Bautista rounded out the top ten, and the Spaniard will be slightly frustrated at the progress made by Stefan Bradl compared to his after day one times.
Bradley Smith was eleventh, just ahead of former team mate Cal Crutchlow. Smith didn't better his time from day two, and will want to ensure he finishes ahead of rookie team mate Pol Espargaro once the important stuff starts.
Crutchlow continued his Ducati learning curve, once again improving, taking three tenths of a second off his time, and despite the positive signs, Crutchlow isn't letting expectation get ahead of him. "I know the position doesn't look too good but I have to say that I'm pleased," said the Brit.
"I'm a long way from Dovi but overall we're quite consistent and faster than yesterday. We found some good things with the bike. I'm not too concerned about the overall time, we seem to have found some things with the bike that enable you to push it a bit more. The limit seems to be a lot more than on the GP13, which is good, and this bike seems to be improving all the time."
Nicky Hayden was thirteenth, and managed to take over half a second out of his time from yesterday as the Kentucky Kid finished top production Honda once again, and was only second to Espargaro in terms of open class bikes. Hayden, who after the second day was feeling slightly demoralised at being so far off the pace will undoubtedly be more encouraged leaving Sepang, only a second and a half behind Marquez, and only three tenths slower than Bautista on the full RC213V.
Colin Edwards finished fourteenth as he continued to get to grips with his FTR-Yamaha, and he was just ahead of Ducati test rider Michelle Pirro.
Randy De Puniet on the Suzuki completed the most laps across the whole three days, and despite ending the test still three second off the pace, the Frenchman nearly took a second and a half out of his day one time as Suzuki continue their extensive testing programme ahead of their 2015 return.
Scott Redding ended the test in 21st, but much like De Puniet he also took just under a second and a half out of his day one time as he continues to familiarise himself with his new bike and the complication that come from the step up from Moto2.
The MotoGP boys will be at it again in just under three weeks time, as they head back to Malaysia for more testing. With more developments expected from all the factories it's bound to be just as interesting.