A third class in MotoGP this season? Factory 2?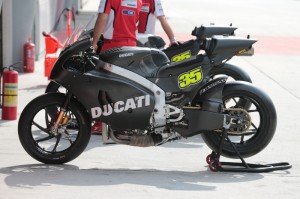 Carmelo Ezpeleta has today suggested that the MotoGP class in 2014 may contain a third category to run alongside Factory and Open bikes, the 'Factory 2' class.
The 2014 season saw the introduction of the Open Class, which essentially offered teams a chance for cheaper but more competitive racing that the CRT class did. Teams in return would have to use the Dorna supplied software, and would be rewarded with multiple perks such as more engines, more fuel and softer tyres. However it now appears that Ducati's recent decision to change from a Factory entry to an Open class entry to continue development in sacrifice of their software, has caused some stir at Dorna HQ.
Today in an interview with Spanish publication AS, Carmelo Ezpeleta outlined a third class which he has apparently been talking over since February.
"The Teams running under the Open rules after one win or two second places or three third places, will be reduced to 22.5 litres and from 12 to 9 engines," said the Dorna CEO.
The decision looks somewhat panicked, making what was a simple new rule, far too complicated and confusing for fans. On the face of it the move looks like a bit of a sweetener to Honda who have been very vocal in their concerns over Ducati moving 'Open' as well as threatening withdrawal in the not to distant future if things continue in the manner they are going.
He also explained that the MSMA have to unanimously vote the decision in, but is sure that Ducati will see the benefits and pass the motion. "To defeat it the MSMA has to unanimously vote it down but Ducati is on our side." He also said he expects the teams to have met and hopes to announce the new class officially on March 11th.
Quite how much substance is behind this class remains to be seen. There are questions which will need answering with regards to the rules, such as do rules still apply in wet races and what if Ducati (or any Open class team) secure a win in the penultimate round using their twelfth engine, what happens then? There is also the matter of if Ducati were informed of this new class prior to making the decision and changing their bikes in order to meet the new regulations.
Ezpeleta ended by restating his intentions for the future of the sport once again: "The final target is that everyone goes Open. Not before 2016 depending on the agreements, but things are moving fast." Quite how fast those "things" will be moving should the Factory 2 class get approved remains to be seen.