Viñales vows to not set any targets for 2014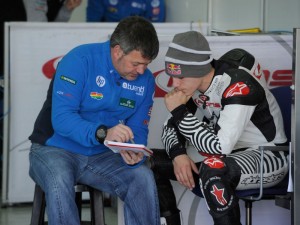 2013 Moto3 World Champion Maverick Viñales has said he doesn't see himself as a favourite for the Moto2 title, he doesn't even want to set any aims for 2014.
Viñales who took the Moto3 title in stunning circumstances last season has instantly been installed amongst one of the favorites for the 2014 Moto2 title after an impressive test last week in Valencia. Viñales ended the test in second place, less than two tenths off Tito Rabat, and lapped faster than last years Moto2 World Champion Pol Espargaro did on the same bike back in Valencia last year.
The Moto2 rookie was happy with his work in Valencia. Speaking with Speedweek, Viñales said he feels comfortable on the bigger Moto2 bike.
"The test went very well and I was fast. We have used the new bike, and I feel very comfortable with the machine. Even when the tank is full, I have a lot of confidence with the bike. 
"This is important, because with a full tank, especially on corner entry, it is usually very difficult. That's a big difference from the Moto3 class, because with little fuel, it is easy to draw the Moto2 machine in the curves, but with a full tank, it becomes more difficult. It is easy to lose the front. 
"We have spent a lot of time on used tyres, because the final laps of the race are crucial. I have learned with the used tyres, a good feeling and I how to slide with them. I'm also very consistent.
"Overall I am very satisfied with this test."
However Viñales has been quick to try and shun the pressure, as he did in 2013, and try and go under the radar once more.
"I do not set any goals, just learn a lot," Viñales told Marca. "There are 24 or 30 favourites before me. Others have to be more concerned than I am. I don't want to put pressure on."
Viñales' no pressure approach seems to have stemmed from team owner Sito Pons, who just wants Viñales to learn and gain experience for 2015.
"Sito has just asked me to learn a lot for next year," he says.
Viñales and the rest of the Moto2 teams will be back on track next week when the testing moves down to Jerez.