Movistar to sponsor the Factory Yamaha team in 2014?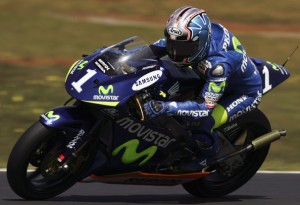 Could Movistar be set for a sensational return to the Grand Prix paddock this season, as a sponsor for the Factory Yamaha side?
Well if you believe reports in the Italian press, the Spanish giants could be set to provide Yamaha with a much needed finical boost as they attempt to wrestle the crown back from Honda.
GPone were the ones who are reporting the news, and the report says that the deal could be announced in just under two weeks time at the first Sepang test in Malaysia.
Movistar pulled out of Grand Prix racing at the end of the 2005 season after a huge, well publicised dispute with Repsol and Honda over Dani Pedrosa. The telecoms giant wanted to continue to support Pedrosa as he made his step up to MotoGP after funding his success through the junior classes. Repsol and Honda were having none of it, insisted that he should be in Repsol colours in the factory team. Movistar weren't happy, and subsequently withdrew all sponsorship from Grand Prix racing.
However it now appears the brand which supported not only Pedrosa, but also Casey Stoner and Marco Melandri, are ready to come back into the Grand Prix paddock with a vengeance.
They have been patient over a potential return, and only two years ago we heard that Telefonica had indeed been in talks with Yamaha, before ultimately decided after market research that it wouldn't be a wise investment.
But with MotoGP going back to to South America, it now appears the move suits them better. Argentina is seen as a key market for the Spanish brand, and it's something that could favour Yamaha greatly.
Despite the 2014 livery already being unveiled in Jakarta earlier this month, Yamaha boss Lin Jarvis did say that he expected more sponsors to be signed before the start of the season.
"We will have some new sponsors," Jarvis told Indonesian blog TMCBlog. "But you won't see them this afternoon, they will be coming in the future."
Whether Movistar is one of the brands Jarvis was talking about we will have to see, but we will find out on February 4th.