Movistar confirm Yamaha sponsorship!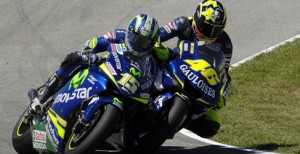 Spanish media giants Telefonica Movistar have today confirmed that they will be sponsoring the Factory Yamaha team of Jorge Lorenzo and Valentino Rossi this season.
The news was today confirmed by Movistar director Luis Belo in Madrid, and Belo who revealed that as well as sponsoring the team, they intend to host a PPV TV channel, in a bid to create 'a sports channel, other than football, where you get to see motorsport like never before'.
Belo confirmed the details of the contract, reminding people that the TV rights in Spain are now shared 50%, but from 2016 Movistar will be the sole provider of F1 and MotoGP coverage. Mediaset Spain will show 9 races live this season, whilst showing the rest on delayed coverage. However, the season opener in Qatar, will be on PPV TV.
Movistar appears to have taken a leaf out of Sky's book by combing their coverage and sponsorship. Sky Italia have done it with the VR46 Moto3 team. Movistar appear to be taking the same principals on board, but by sponsoring Yamaha MotoGP rather than setting their own team up team from scratch as Sky have.
The TV channel is rumoured to be devoted solely to MotoGP from Thursday to Monday, and include all practice sessions and races, press conferences, as well as CEV and Red Bull Rookie support races. The team is rumoured to include Ernest Riveras, Jose Luis. Former 500cc World Champion Alex Crivillé is rumoured to be in the commentary box.
Movistar had been prominent players in the Grand Prix paddock in the early 2000's, however the left the championship at the end of 2005 , after failing to keep hold on Repsol Honda bound Dani Pedrosa, who Telefonica Movistar had supported to three World Championships.
The move comes on the back of BT's unpopular purchase of the British MotoGP rights for the 2014 season. With Spain possibly heading the same way in 2016, Dorna's apparent desire for free-to-air coverage appears to be going out the window, leaving some fans concerned that the sport may be moving away from a tradition fan base.
The official announcement is expected tomorrow from Yamaha, and once we have word from them about the deal, we will pass it onto you.