Marquez ends the first Sepang test day on top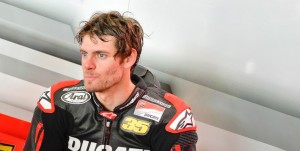 2013 MotoGP World Champion Marc Marquez ended the first day of 2014 testing on top, sending out an ominous message to the rest of the MotoGP field.
After a stunning 2013 season, Marc Marquez is the massive favourite heading into 2014, and his stunning show on Tuesday demonstrated just why. The Spaniard, who's still only 20(!) was over half a second quicker than the impressive Valentino Rossi, with Dani Pedrosa third.
Marquez, who was riding the 2014 RC213V which features a larger air intake than it's predecessor,  in an attempt to increase top speeds and throttle response on corner exits, completed 62 laps today, and posted his fastest time of the day on ten laps before the end of his day.
Behind Marquez was the equally impressive Valentino Rossi, who is about to embark on his first MotoGP season without Jeremy Burgess by his side, the Aussie has been replaced by Silvano Galbusera this season, and early results are positive. The Doctor himself managed to complete 61 laps himself as he continues to work with the developments from Yamaha, who bought a whole host of different parts to try in Sepang.
Rossi was releaved to solve the breking issues that plauged him in the later end of last season. "I am happy and satisfied with the first day," The Doctor told the MotoGP official website. "Fast all day long and always in the first three. The laps times are already at a good level and I am also happy because we tried some different stuff to improving my braking problems from last year and we found something positive. I feel more comfortable in stopping the bike and that is very important because it was a big issue last year. I wanted to do a lap under 2'01 and was able to do a 2'00.8. This is positive."
Although there was something that he can't quite find a way to fix yet.
"The only problem today, for everybody, is Marquez!" said the Italian beaming with a smile.
Dani Pedrosa went somewhat under the radar today, despite setting the early pace he ended the day in third position, and ended +0.620 behind his team mate, but he managed to get through 75 laps as he targeted runs and trying out new parts rather than necessarily targeting top times.
"It was a very long, hard day," Pedrosa told www.MotoGP.com. "We put in a lot of laps and, despite us being fresh as it's the first day, I'm sure that tomorrow I'll be feeling it! It was fun, as I had not been on the bike for a long time and was curious to see how I would feel after my (left collarbone) operation last year.
"In general things went well and we focused on trying out the rear brakes, clutch and engine mapping today. Tomorrow we will work on the chassis and the new tyres. The bike seems very similar to last year's model; we still need more time to work on things, but it appears as if there are no huge differences required in terms of riding style."
Last season's runner up Jorge Lorenzo was in forth place, and only managed 47 laps, which is the lowest of the top six. Lorenzo was busy giving feedback today, so expect longer and faster runs tomorrow from the two-time MotoGP World Champion.
Lorenzo didn't have the easiest day. "As always it's difficult to come back again in a good shape after the Winter, some months without training changes you a lot so the first day is always tough," said the two time World Champion. "The bike has changed quite a bit compared to last year. The new regulation of 20 litres fuel allowance makes us change quite a lot of electronics so the bike is not working exactly how I would like. I know we will find a solution in the next two days."
The two RC213V satellite bikes of Alvaro Bautista and Stefan Bradl ended the day in fifth and sixth respectively as they set the tone for what is sure to be a season long battle as top satellite rider in 2014.  Bautista was just under a second behind Marquez, whilst Bradl finished three thousandths of a second above a second off Marquez' pace.
The surprise, and arguably ride of the day was Aleix Espargaro on the NGM-Forward Racing FTR Yamaha, ending the day in seventh, ahead of both satellite Tech3 bikes on his first run with full Yamaha suspension. In finishing seventh, Espargaro was also the fastest of the new 'Open Class' riders. The new open class means teams get more fuel amongst other things, and it's a good start for the open class.
With Ducati supposedly still undecided if they want to run in the open class, their Pramac satellite rider, Andrea Iannone, was the top Ducati rider in eighth position, but still 1.2 seconds off the pace.
Iannone was impressed with what he was given by Ducati. "I think the Ducati has improved and that the 2014 bike is better than the 2013 one," he told the MotoGP website. "The first feeling is a little bit better. So I do think it is better, but they have not changed many things yet and for now I have still touched the settings of the bike, so I think we have many possibilities and that the 2014 Ducati is better."
The top ten was rounded out by a pair of Tech3's with Pol Espargaro finishing ahead of his team mate, to make a good day for the Espargaro family, whilst Smith will want to improve and be ahead of both Espargaro's as he heads into his second season in MotoGP.
Despite sitting out the morning session due to "very small, tiny, itty bitty technical issue"  Colin Edwards was eleventh, but over half a second behind Smith in tenth position aboard the second NGM-Forward Racing FTR Yamaha bike.
The three Yamaha's were followed by a quartet of Ducati's. Andrea Dovizioso led the way, with test rider Michelle Pirro following, Ducati new boy Cal Crutchlow followed Pirro, with Hernandez round out the Ducati's. Crutchlow suffered a small crash, where he just fell going around 10mph as he was adjusting.
Ducati didn't bring any of the major developments to this test, with more improvements and bigger developments expected to come in the second Sepang test at the end of the month.
Despite not getting through many laps, 38 to be exact, Crutchlow found himself over 2.5 seconds off the pace, showing just how much work needs to be done by Crutchlow, the team, and new General Manager, Gigi Dall'Igna.
Nicky Hayden was the fastest of the new Honda RC bikes in seventeenth position aboard his Aspar machine, and he was just over three seconds behind Marquez. He was closely followed by his new team mate Hiro Aoyama, with both riders getting used to the new Honda.
Randy De Puniet was today starting his new role as solo test rider for the new Suzuki team, and the Frenchman managed to get through an invaluable 75 laps, although he ended the day in 19th, 3.6 seconds adrift, with plenty of progress required on the Suzuki.
MotoGP new boy Scott Redding found himself 21st, and just over four seconds off the pace of Marquez, but aboard the new bike Redding will continue to improve and should get closer to the front with every session. Despite being so far down the timing screens, Redding was happy with his day.
"I was really happy to ride again at full strength, without physical problems, although it was hard for me to ride all day because of the weather conditions," said the British rookie. "The bike was working well, I like riding it, but we need to improve on the electronic and braking. Tomorrow we will focus on setup, in order to make the bike turn better."
Stay tuned to GPxtra.com, and be sure to follow @AaronRowles for more updates from Sepang over the next two days.