Viñales: I can learn everything from Valentino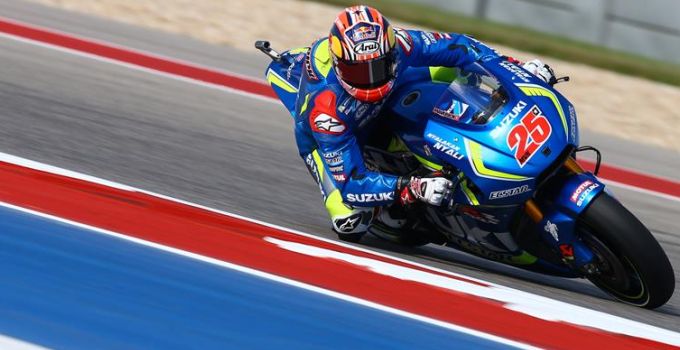 Amid speculation he could be closing in on a deal to replace out-going Jorge Lorenzo in the Movistar Factory Yamaha team, Maverick Viñales has said he feels like he could learn everything from current Factory Yamaha star Valentino Rossi.
With Lorenzo's move to Ducati confirmed earlier this week, all eyes are now on who will partner Rossi on the Factory M1.
Viñales has impressed everybody, building spectacularly on a solid rookie campaign. Two front row starts and a fourth place finish last time out in Austin for Viñales, a debut podium seems to be just around the corner.
The Spaniard is a self-confessed fan of the Italian, calling the Italian his hero whilst growing up. The respect is a two way street too, with Rossi saying he wouldn't have an issue if he came in to replace Lorenzo, after being impressed with what he has seen.
Despite all the praise coming his way, Viñales has remained very grounded insisting he still has a lot to learn before he can challenge for race wins and World Championships. Viñales however, believes that the nine-times World Champion could teach him "everything".
"It feels good that a rider like Valentino that has so much experience and has seen many riders says something like this about you, it means that you are doing things good," the 21-year-old told MotoGP video pass.
"Since I was a kid he was the one who was winning and the one that I was following. He has always been my reference. For sure I can learn everything because he has so much experience, many championships and for sure he has the speed to go fast."
Viñales' start to the season has seen his stock sky-rocket. Front row starts in Qatar and Austin shows the one lap pace Viñales has when under pressure, something he says he is relishing.
"But I think at the moment I feel quite good as a rider and I think we are quite competitive," he said.
"My feeling is that at the moment the bike needs to make another step and we can be there; I think in nearly all the races. I have been always working so good under the pressure and I feel good because when I have pressure normally I do my best, so I like pressure."
Whether he does end up on the Yamaha or not, Viñales' goals have remained the same. The 2013 Moto3 World Champion says that he hopes to see the number one plate on the front of his bike within the next two-to-three years.
"I want to see myself with the number one in two or three years. For sure I want it now, but now it's impossible because the bikes needs to improve and I need to have more experience," said Viñales.
"But I think that in the future I can be strong and I can be one of the riders to win the championship."
Photos via Suzuki-Racing.com