Lorenzo open to having Stoner as a rider coach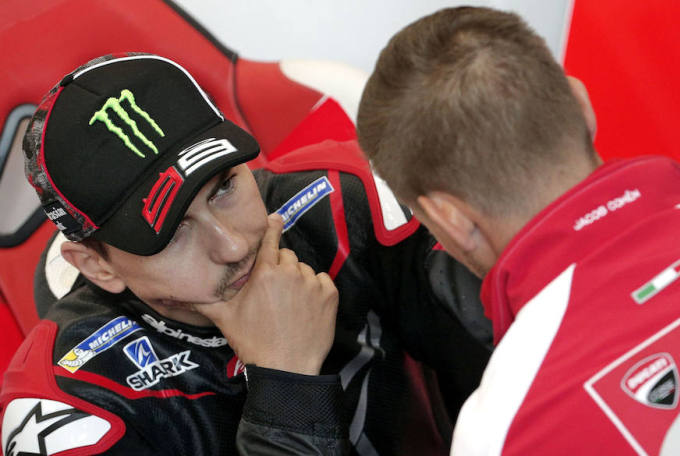 Jorge Lorenzo has said that he enjoyed his first interactions with Casey Stoner in the Ducati team, whilst admitting he would enjoy having him as part of his team next season.
The Spaniard impressed during his opening outing on the Ducati Desmosedici at the Ricardo Tormo Circuit in last weeks IRTA test. Lorenzo spent a lot of time in the pits speaking to the Australian who had been testing the Ducati sporadically throughout 2016.
Lorenzo and Stoner have always enjoyed a good relationship and with Lorenzo recruiting the services of Stoner's former crew-chief Cristian Gabbarini, the links between the two are strong. Lorenzo said he is open to further enhancing their relationship by bringing Stoner on board as a "rider coach", should Stoner wish to fulfil the role. 
"It would be interesting to have him in the box," said the three-time MotoGP World Champion during a promotional event for Zopo in Madrid.
"We haven't talked about it yet, but we will soon. One of the problems is that he's very comfortable in Australia, and to help me he would have to Italy. He doesn't seem very convinced, and we have to see if he finally manages to reach an agreement with Ducati.
"My relationship with Casey is very good. He is a very intelligent person, he's very observant and gives good advice. He's a rider that after four or five years of not riding is still able to arrive at a circuit and go even faster than the official riders, so that says it all. He has a lot of experience with the factory, with the bike and sure he could helpful in the future."
Whilst the chances of Stoner relocating from Australia to Italy to take on the role seems slim, Ducati General Manager Gigi Dall'Igna and Sporting Director Paolo Ciabatti have been vocal in recent weeks about trying to get Stoner more involved in the Ducati project next season, possibly paving the way for a formation of a super team.
Ducati had hoped to get Lorenzo taking part in a private test at Jerez next week, as he continues to adjust to the Desmosedici. However, Yamaha blocked Lorenzo and Ducati's request for the test, with the 29-year-old contracted to Yamaha until 31st December 2016, they ultimately have the final say.
As well as preventing Lorenzo from riding in the Jerez test, Yamaha also refused to allow him speaking to the media regarding his new bike. Despite not being able to talk about the bike or the test, Lorenzo did say that the Valencia test was extremely valuable and he is happy with his decision, but is perfectly aware there is a lot of work to do.
"It's obvious that the more days of testing, the better for us to adapt to the bike and give the most accurate data to the engineers. We had two important days and the team have stored a lot of information. I would like to say something about the test, but unfortunately I can not tell you anything. All I can advance is that I'm happy, but there is a lot of work to do.
"As I said over the weekend, I do not regret the decision I've made [to leave Yamaha]."