Bradley Smith pleased with KTM debut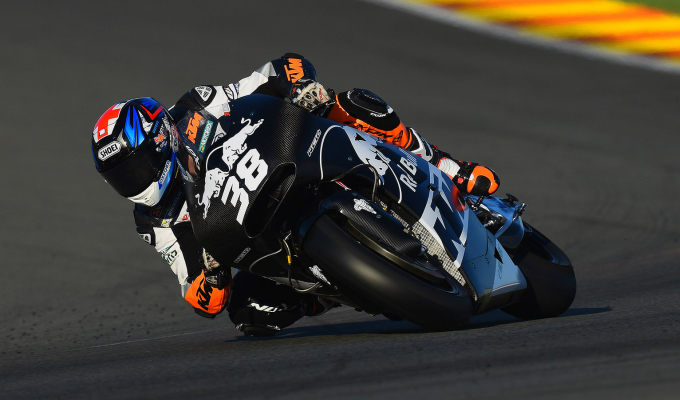 Bradley Smith has said he was pleased with his first run out on the new factory KTM MotoGP machine, but knows there is a lot of work to do.
The Brit will move from the Monster Yamaha Tech3 team where he has spent the entirety of his four year MotoGP career. Signing a contract to become the first factory KTM MotoGP rider ahead of the season opener in Qatar, Smith endured a tough season, including an awful injury which almost ended the Brit's season in August. 
Despite the injuries, Smith ended the two-day test 21st fastest overall, just over 2.5 seconds off the fastest lap time of the day, set by Yamaha's Maverick Viñales. With the KTM being a totally different bike to the Yamaha left behind, Smith said he was pleased with the progress he made during his first outing on the Austrian bike. 
"There was so much to take in, but I've been positively pleased despite how many things feel so different," said the 25-year-old on his blog on the MotoGP website.
"The engine is different, the chassis is tubular steel, and we're running different suspension – but it feels like a bike, and it has a similar character on the Michelins and reacts in the same way and logically.
"We worked mainly on electronics the first day, because my riding style is quite different to test rider Mika Kallio. We roll through corners more instead of stopping and starting like in Moto2, and Mika doesn't mind the bike backing in as much and sliding because that's what he knows.
"The good thing is that Pol and I went in a similar direction and positive feedback form it. We didn't try too much with the chassis; it was a case of trying as much with the electronics and trying to understand the character of the engine. The sound confused me the most – you don't really know where you are or what the traction control is doing – but it improved with every run."
Despite the gap to the front, Smith isn't too concerned with the times at the minute, taking into account the lack of mileage under the belt of the RC16 and his current fitness. 
"Just over two and a half seconds off the front considering this bike still hasn't done half the kilometers of anything else out there is impressive. Pol and I are working on the same things, complaining about the same things, and doing the same lap times, which is really positive," he said.
Photos via Michelin Motorsport