KTM: We're closer to the front than we expected to be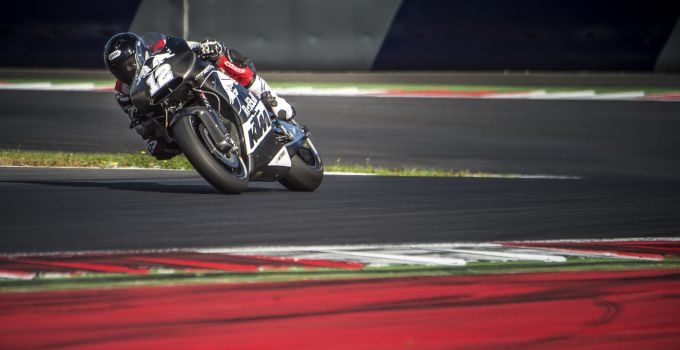 KTM Motorsports Director Pit Beirer has said he was very happy with KTM's performance after their first public outing of the their RC16 during this weeks private test at the Red Bull Ring in Austria. 
The Austrian company will join the MotoGP paddock full time next season with Bradley Smith and Pol Espargaro signed up for the first two seasons. Up until this week, all of the KTM tests have been private tests.
Beirer was delighted that KTM could finally measure themselves directly against their competitors, and that despite knowing they would be way behind the more established MotoGP factories, the gap was smaller than what they thought it would be. 
"Finally the day has arrived we can measure ourselves directly against our competitors and it was a great feeling. But in principle we are here to continue to improve and we can say clearly that everything is going according to plan," said Beirer.
"Naturally we're somewhat slower than the absolute top guys at this point, but the difference is not dramatic and we can see where we have to improve. The fact that we already have our two factory riders Bradley Smith and Pol Espargaro under contract for the next two years already makes me feel very confident lap time wise," he said.
"We now have four further tests on the program before we ride with Mika Kallio as a wild card in the final race of the season in Valencia, which for us is also another milestone. He and the entire team have delivered a fantastic job in the past half year, and this has been reflected in the results of this test."
KTM ended the test approximately 2.5 seconds off the pace of the factory Ducati's which topped the test, but rather tellingly they were only just over a second behind the factory Yamaha's, something Vice President of the project, Mike Leitner, was very proud of.
"It's fantastic that we've now really confirmed that we're going in the right direction. The test was pure competition because naturally all the teams tried to find a good setup for the Grand Prix," he said.
"At the end of the second day the times started to drop and this gave us our first real reference. And even though the way to the top will be even harder, on no account do we need to hide. There are many things to do but we know where the bar is set.
If someone had told us before the test that we were three seconds behind, we would have taken it well. This achievement is even more praiseworthy in the class where they fight for every tenth of a second. This was an important step that is bound to guarantee that awareness is sharpened throughout the entire company."
Photos via KTM Racing