Dovizioso: This is a reward for all my efforts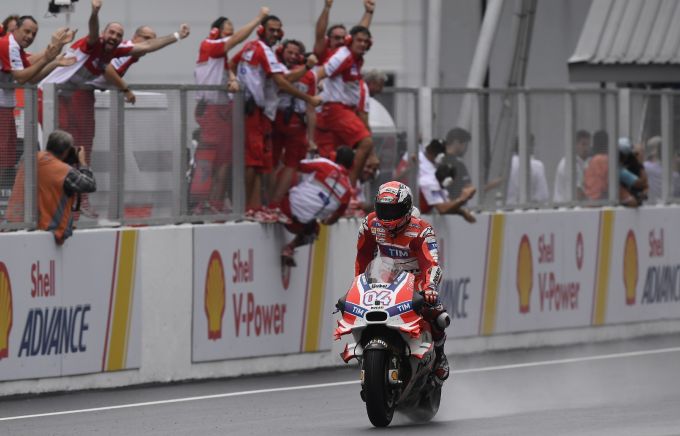 Andrea Dovizioso has said that his second career MotoGP victory was a reward for all of his effort in recent seasons.
The Italian ended a six year drought since his first and before today only MotoGP win, a wet race at Donington. In the perioud between his two wins, Dovizioso has raced three different brands of bikes, started 131 races and claimed 31 podiums.
His victory today was won in typical Dovi style. Starting form pole, the Italian didn't panic when his team-mate and Valentino Rossi both spent time at the head of the race. Instead Dovizioso saved his tyres and when presented with the opportunity to take the win with just five laps to go, he made his move and didn't allow Rossi a chance to fight back.
Dovi was understandably extatic to become the ninth different rider to win a MotoGP race in what has become a historic season, calling the result, treuly immense.
"It was very important for me to win a race this year: I've been trying for so long and I've come close on several occasions, so satisfaction for today's result is truly immense," said the 30-year-old.
"I really powered to the win, because in the first half of the race I could not push too hard, but I didn't give up, I didn't make any mistakes and at the right time I passed both Iannone and Rossi and set my own pace."
Dovizioso will be hoping to use this as a platform and use it to mount a serious title challenge when he will be joined by Jorge Lorenzo in the factory Ducati team.
"I am very happy about the improvements we have made this year, both in the bike and with my team, but also on a personal level. I am working hard also for next year and this win, which has come at the end of the season, is just reward for all the efforts."
Dovizioso is now seven points ahead of Pedrosa in the World Championship and with the Spaniard currently recovering from his collarbone injury, the Italian will be hoping to secure fifth position in the MotoGP World Championship in Valencia in two weeks time.
Photos via Ducati Corse