Dovizioso: Ducati will be a "completely different world" for Lorenzo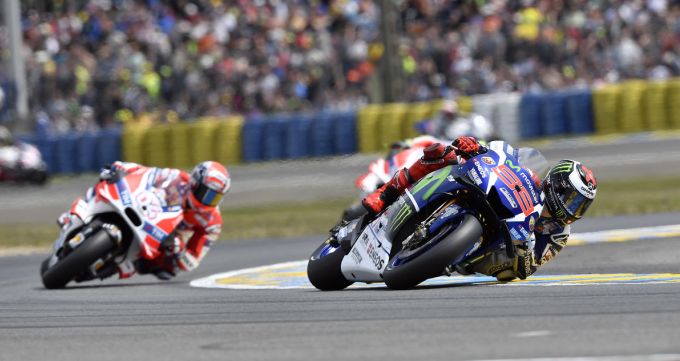 Factory Ducati rider Andrea Dovizioso has warned his new team-mate Jorge Lorenzo that Ducati will be "a completely different world" for him, when he makes the move to the Italian factory for 2017.
Dovizioso was confirmed by Ducati as the man who'll be tasked with partnering the incoming Spaniard next season. Ducati deemed Dovizioso's experience as well as his communication skills important when deciding the man they wanted to partner Lorenzo, thus choosing the more experienced of their two riders from this season. 
Dovi was understandably very happy about the contract renewal, and was particularly happy to get the contract confirmed ahead of his and Ducati's home round at Mugello this past weekend, where an arm-pump problem prevented him from challenging for the podium. 
"I'm so happy about this decision. It's very good that the decision was made before the race at Mugello," the 30-year-old told speedweek.com.
The Italian said that he is excited that he will have a chance to compete, on the same bike, as someone who he has been racing against from their time in the European Championship days, 15-years-ago. 
"I'm really pleased that Lorenzo will be my team-mate. The next two-years will be very important for me, and even more important for Ducati," he said. "It will also be crucial for Jorge to obtain good results with Ducati.
"I'm very happy, to compete against him on the same machine, as he was one of my opponents from our time in the European Championship. To be the same age, to fight on the same machine and in the same team, is very important to me."
Dovizioso is expecting to work closely with Lorenzo, insisting that the World Champion can learn from him when he officially joins Ducati. 
"At first he can certainly learn from me," he said. "I have four years of experience with the Ducati, but he has already won many titles. He knows what to do.
"It will be a big change for him because he's only ridden for Yamaha so far. It is a completely different world for Ducati. The fans make this a huge difference."
Photos via Movistar Yamaha