Viñales aiming to beat Lorenzo into third in the World Championship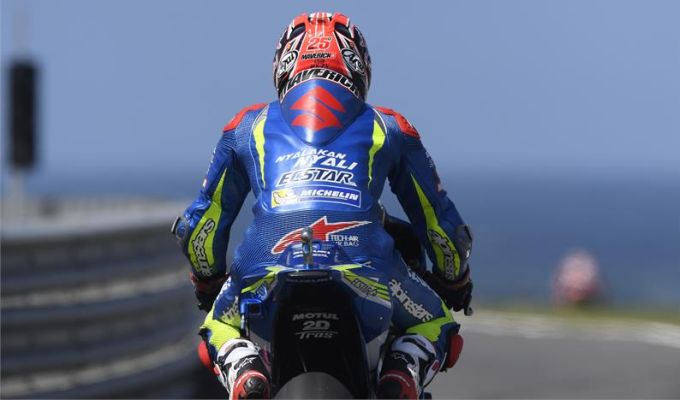 Factory Suzuki's Maverick Viñales has said he hasn't given up hope of catching and finishing ahead of Jorge Lorenzo in the MotoGP World Championship standings.
Lorenzo is currently 11 points ahead of the man replacing him at the Movistar Yamaha team for next season, and with the three-time MotoGP World Champion struggling with tyres and confidence on his YZR-M1, the 21-year-old hasn't given up hope of claiming an unprecedented bronze medal aboard his Suzuki. 
"We have to keep an eye on the championship now, the maths say we can still aim for third place so I've set this as an objective; it won't be easy but we will try to achieve it," explained Viñales ahead of this weekends Malaysian Grand Prix.
Despite the Suzuki GSX-RR excelling in the cold conditions, Viñales is confident that that with the engine upgrades provided throughout the 2016 season, he and his Suzuki will be competitive this weekend.
"The Malaysian circuit is one of those where I've always found myself comfortable and confident, it's a very hard climate and is very demanding for the machines as the power is very important," he said.
"Compared to last year, our performances with the engine and the seamless gearbox have improved a lot, therefore I'm expecting to be competitive.
"In the February test, I had positive results and the latest successes make me think that we have a good chance to be competitive here. We will have to take care of the rear tyre, because the Malaysian hot temperatures are very stressful for the tyre and this could affect the traction, which is one of the aspects we are mostly working on."
Viñales did point to the track being resurfaced and the effects that could have on his bike. With the circuit being totally resurfaced and modifications to the final corner, there are still question marks over the level of grip.
"However, the circuit has received some updates in the tarmac recently so I'm curious to see how the grip has changed; hopefully will be better for us."
Photos via Suzuki-Racing