Crutchlow would've given Repsol Honda ride to Miller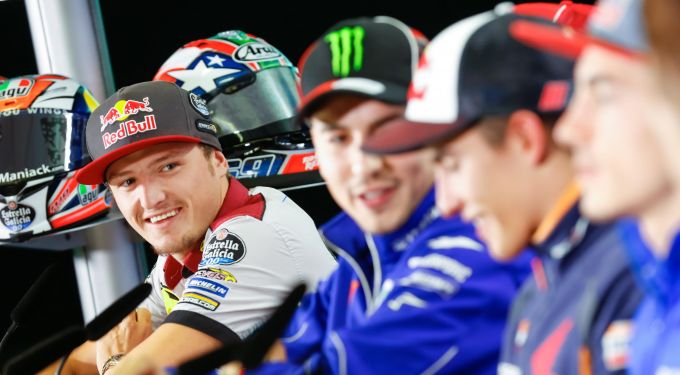 Czech Grand Prix race winner Cal Crutchlow has said he thought the "natural call" to cover the injured Dani Pedrosa this weekend was Jack Miller.
The Repsol Honda rider remains in Europe as he continues to recover from the broken collarbone and tibia fracture he sustained during a free practice crash ahead of last weekends Japanese Grand Prix in Motegi. The Spaniard is hoping to return for the last race of the season in Valencia, but in the meantime, the Repsol Honda team have had to find replacements for Pedrosa.
In Japan, Honda turned to test rider and 2009 250cc World Champion Hiro Aoyama to stand in for Pedrosa and for Phillip Island they have called upon the services of former rider and 2006 MotoGP World Champion Nicky Hayden.
With Crutchlow working closely with the factory, some had thought that Crutchlow may get the nod to partner Marquez in the Repsol team this weekend. Denying he was disappointed to not get the call from HRC, Crutchlow pointed to the sponsorship difficulties as much as anything else.
"Obviously we know there's, not a conflict of interest, I ride for LCR, it's as simple as that," said the Brit during Thursday's pre-event press conference.
"As much as I've helped the factory team over the year and do some testing for them, I'm also a Monster athlete, they have a different energy drink sponsor. 
"I thought the natural call, to be honest for them was for Jack to be racing at his home Grand Prix on a Repsol bike, I don't get to make the call but that's just my opinion."
Whilst believing that Miller would've been the logical choice for the seat, Crutchlow did admit he was excited to see the American returning to MotoGP with his World Championship winning squad, hoping he can fight at the front.
"It's good to see Nicky back also and it will be an entertaining race. We can see there's going to be a few Hondas fighting at the front this weekend, so it would be good if he could join the party as well."
Crutchlow and Miller are good friends, and before the press conference, the Aussie tried to play a joke by placing a rubber snake under the desk where Crutchlow was due to sit, although the LCR rider saw straight through Miller's joke.
Jack Miller tried his best to scare Cal with a rubber snake under his table at the press conference #JM43 #CC35 https://t.co/ZB4f1doMIM

— GPxtra (@GP_Xtra) October 20, 2016
Photos via MotoGP.com