Crutchlow: No time to celebrate the victory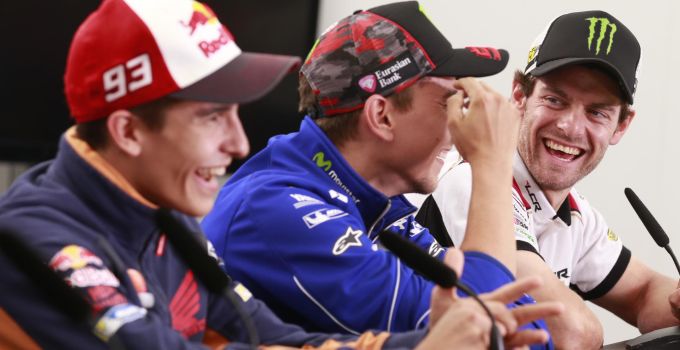 Czech Grand Prix winner Cal Crutchlow said he has no time to celebrate his maiden MotoGP victory as it was back to reality as he was nappy changing and feeding his 6-week-old, baby daughter Willow. 
Crutchlow became Britain's first premier class winner in 35 years last time out in Brno when he judged conditions to perfection to cut through the field and make history in the Czech rain. However, despite making history, the Brit revealed he wasn't able to properly celebrate the victory as it was back to work, both on the track and at home after the race.
"I think the win has sunk in," Crutchlow said during today's pre-even press conference at Silverstone.
"I came straight back down to reality when I got home and change a nappy and feed the baby. There was no party or anything! Obviously we had the test the next day in Brno, so there wasn't time to celebrate with the team either. Once I got home and spent some time with Lucy and Willow, saw some friends and did some cycling.
"We then turned up here at Silverstone to quite a lot of chaos that we caused with the Brno win. There's a lot of people coming this weekend and it is fantastic for the British crowd here at Silverstone and for us as riders."
Crutchlow then dismissed the Enzo Ferrari myth that becoming a father makes you slower, insisting that since becoming a father he has become even faster. Crutchlow said that both wife Lucy and daughter Willow are with him this weekend, although neither was present during the press conference.
"They're (Lucy and Willow) here but not in the press conference because she's pushing the baby around and she's sleeping," he said.
"It's nice to have them here. Everyone thinks that suddenly you don't focus as much when you have a child but since I've had her, I've gone faster than ever."
Crutchlow said that in the wake of this, that Jorge Lorenzo had said that he needs to maybe have a child himself if it will make him faster, to which the Brit joked: "Maybe you have twelve around the world, you don't even know about!"
Photos via MotoGP.com