Michele Pirro to debut Ducati GP17 in Valencia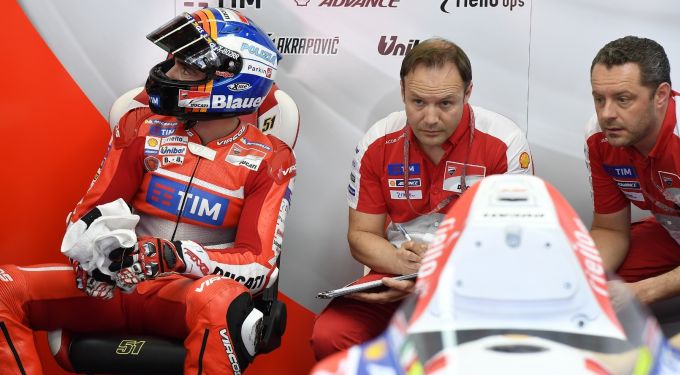 Ducati test rider Michele Pirro will give the highly anticipated Ducati GP17 its first full run out this week in Valencia.
The Italian will complete his first laps aboard next seasons Desmosedici around the Ricardo Tormo Circuit in Valencia as part of a three-day, private test at the Spaniard circuit. The early test of the 2017 Ducati marks a change in philosophy from the Boro Panigale factory, who didn't debut the 2016 bike until the first test of the calendar year in Malaysia.
Whilst giving the bike a shakedown, Pirro confirmed the test will focus on ensuring the power delivery isn't too harsh and the rear grip of the GP17 is more than adequate. The GP17 will also be without the now wide spread winglets. 2017 sees a ban on all winglets, because of this, Ducati are being proactive and trying to find a way to make the loss of the aero pieces as minimal as possible. 
The test has extra importance after yesterdays news that Yamaha had refused to release Jorge Lorenzo from his Yamaha contract early for a private test in Jerez at the end of next month. With just the two days at Valencia Lorenzo's only opportunity to get used to riding the Desmosedici, Ducati want the bike to have a solid base setting before handing over to the three-time MotoGP World Champion.
Whilst Lorenzo hasn't spoken to Pirro regarding the Ducati as of yet, the Italian will be doing all he can this week to help make the GP17 as good a bike as possible ahead of the post-season test.
Not able to fly to Motegi due to his testing commitments, Pirro looks set to fly down to Melbourne as back-up for the still-injured Andrea Iannone. The Austrian Grand Prix winner is hoping to race, but after being ruled out of this weekends Japanese Grand Prix, Ducati will be prepping Pirro, just incase.
Photos via Ducati Corse