Jorge Lorenzo gets first taste of Mercedes F1 car
MotoGP World Champion Jorge Lorenzo got behind the wheel of a Formula One car for the first time yesterday during a special test at Silverstone. 
The Spaniard has longed for an opportunity to get in the cockpit of a Formula One car, and his wish was granted by Monster Energy. The energy drink giant is not only a personal sponsor of Lorenzo, but also a mutual sponsor of both the Mercedes AMG F1 team and the Movistar Yamaha team. 
Lorenzo was given the opportunity to test Lewis Hamilton's 2014 World Championship winning car, the W05 and described the experience as "a dream come true". 
"First of all I want to say thank you to Monster Energy for giving me this opportunity. It has been a great experience, like a dream come true," said Lorenzo.
"The past few days for me have been very special. I had the opportunity to work alongside some of the best engineers in this sport, drove the F2 car, had simulator test sessions and finally, I got to drive the real deal. Today I experienced driving a Formula One car. It's been an amazing day."
Lorenzo got through 64 laps around the British circuit, lapping a second faster than Nico Rosberg did at Silverstone in February this year. Whilst Rosberg's test was in much colder conditions and in a different car, Mercedes engineers were left extremely impressed with the lap times of the MotoGP star.
"I'm very satisfied with the lap time in the last run. From what the engineers were saying, my times were really competitive. The car is so smooth, I expected a more twitchy and difficult car but in the end everything was so good: the steering wheel, the engine, everything," he said.
"It was quite easy to drive and the car in the corners is really, really fast and the grip of the car it's unreal. In the first lap you feel the power but when you get used to it, it's similar to a MotoGP bike but in the corners, you are in a different world, about 40kms faster in the middle of the corners. Also it surprised me how late you can brake and the amount of grip the car can support in full throttle in the fast corners is insane."
Track Engineer Richard Lane was on hand for Mercedes, and he said that he was impressed with how Lorenzo approached his test, improving on every run he made on track.
"It's been great working with Jorge today. From the moment he arrived he's been full of enthusiasm and keen to get stuck in," said Lane.
"Between each run he's been poring over the data, and looking to find areas for improvement. You can see why he's a multiple World Champion on two wheels. His interest in the detail of his performance has been impressive. He's taken feedback on board and improved with every run. It's been a great experience for us to work with Jorge and we wish him all the very best for the rest of the MotoGP season."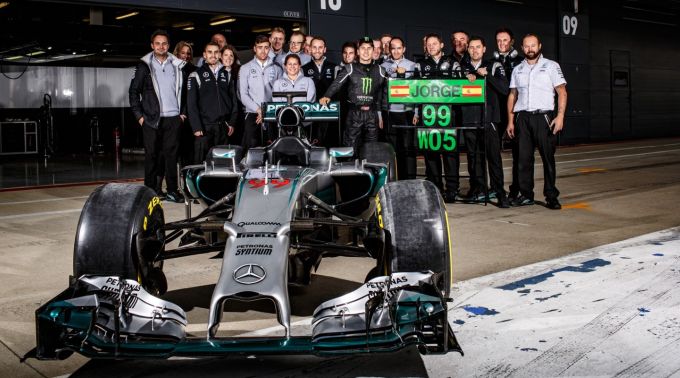 Photos via Monster Energy