Viñales: We were confident with the tyres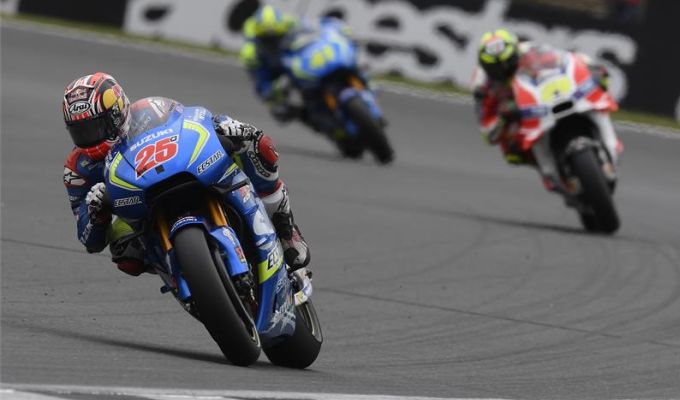 British MotoGP race winner Maverick Viñales said he was confident with the tyres as he won his maiden MotoGP race. 
Tyre choices were a hot topic in the paddock with FP4 rained on, a lot of teams and riders were left without any guarantees that the softer compound Michelin would last the 19 laps required for the race. Whilst Repsol Honda duo Marc Marquez and Dani Pedrosa gambled and ran the soft tyre front and rear, the entire front row – including Viñales – opted for the hard front and medium rear tyres. 
Viñales said that he was confident with the tyres, and that he trusted Michelin when they said the harder tyre would allow him to push harder on the brakes. 
"With the tyres we were quite confident. We were struggling a little bit at the front, because we didn't know whether to use the soft or the hard," said the 21-year-old.
"Finally we trusted Michelin, and they said to us the hard is going to be a little bit better at stopping the bike. This was good to have this front, because I could push so much on the brakes. It was perfect."
With the first start red flagged after a lap, Viñales said that he felt that was a time when he realised he could be competitive in the race. 
"When I started the first race, I started to push because I thought, 'OK, I need to push hard and try and keep warm tyres'. When I saw the red flag, I looked behind and saw I was so far, and I couldn't believe I had this gap," he said.
 "Honestly in the second race, I started third, but I knew I could push and I tried to overtake Valentino and Cal quite fast, and it was so difficult! I was breaking so late to overtake Valentino, and Valentino is so good on the brakes, and also Cal. When I was feeling that I could push I did. I took my opportunity and I opened a gap.
"Honestly it was great to win like that."
As well as enjoying confidence with the tyres, Viñales said that the cold conditions favoured him. The Suzuki GSX-RR has been strong in the cold all season. Whilst not sure what exactly, Viñales said that the cold definitely helped him today.
"It was cold today, so we won! Our bike is so good when it's cold. I don't know if it's because it keep warm the tyres, but I always feel strong on the cold conditions. And I have grip too. So we need to transfer this to the hot conditions. I know in Brno we made one step forward, but we want to continue," he said.
Despite enjoying a cushion in excess of four seconds, Viñales said that having a cushion that large almost made it harder for him, with concentration of vital importance with nobody else around him. 
"It was so difficult because when you have some (other) riders the laps past so fast, but in the front, when you are just a few laps to make your dream come true. Honestly it was difficult to not make any mistakes," Viñales said.
"Finally I said OK, and tried to keep my concentration in the four laps to the end, I didn't take any risks, was just trying to finish the laps and it was great. It was great to see all the team there, was incredible."
Photos via Suzuki Racing