Crutchlow: I'm pleased to be the British rider that's broken the run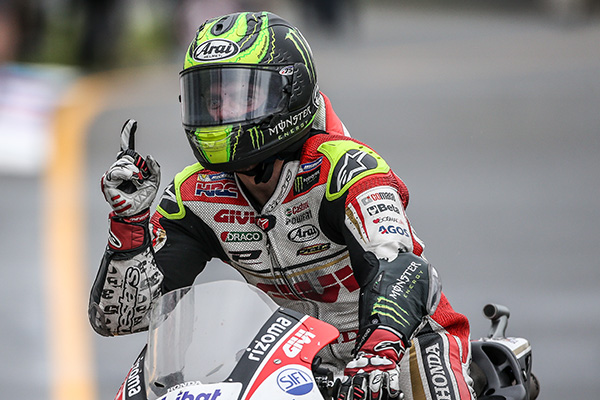 Cal Crutchlow has said he is pleased to be the man to end Britain's 35 year wait for a premier class victory today in Brno.
With rain falling over, the circuit was soaked wet through, meaning strategy was going to be key. Judging his strategy and riding his race to perfection, Crutchlow kept his cool before cutting through the field when his harder tyre compound tyres came into their own, helping the 30-year-old claim his maiden MotoGP victory. 
After starting the race in tenth place, Crutchlow fell as low as 15th place in the early laps of the race, however, he kept his calm and slowly closed in on riders in front of him. Crutchlow ultimately took the lead off of Andrea Iannone with seven laps remaining, before pulling away from second place Valentino Rossi. 
Crutchlow said that whilst he was delighted to be the first British winner since Barry Sheene in Sweden in 1981, it was nothing compared to becoming a dad two weeks ago, when his wife, Lucy, gave birth to the pair's first child, a baby girl called Willow. 
"This win means a lot to me. I thought the feeling might be different, but after having become a dad two weeks ago, nothing matches that," said the Brit.
"Don't get me wrong though, I haven't won a race for many years, maybe six or seven, so it's been a long time and it's something really, really special. I'm pleased to be the British rider that's broken the run, especially after some of the stick I've had."
As well as claiming the first win of his MotoGP career, it was also the first of the LCR Honda team. Since moving into MotoGP in 2006, Lucio Cecchinello has seen his bike finish runner up three times, however, Crutchlow was very happy for his team this afternoon.
"I'm also so pleased for my LCR Honda Team, because I wrecked a bike during practice yesterday and they were working until midnight to get it ready for me today. So to repay them with this win is great – they never give up," he said.
"Victory has been a long time coming and I was emotional on the cool-down lap. I was playing with them in the end though, I knew I had made the right tyre choice on the grid and pushed when I needed to push.
"I'm ecstatic."
Photos via LCR Honda