Marquez: If the race is dry tomorrow it gives me hope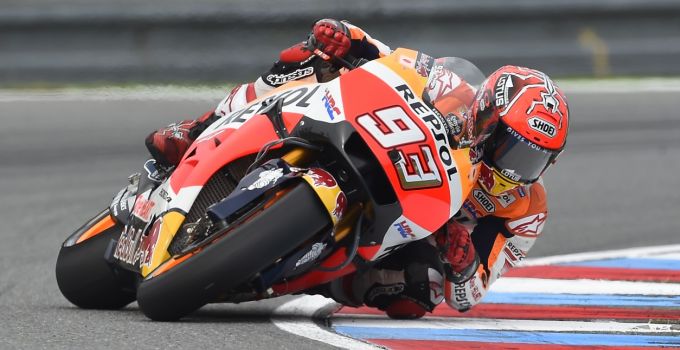 Marc Marquez has said he hopes the rain stays away tomorrow, as a dry race will give him his best chance of taking victory in Brno.
The World Championship leader claimed an unexpected pole position in the Czech Republic breaking the circuit record 1:54.596. Despite breaking the circuit record and joining Valentino Rossi and Jorge Lorenzo on 63 career pole positions, Marquez did admit he wasn't expecting to challenge for the top spot.
"I honestly didn't expect to get this pole position. I saw myself fighting for second place or to be on the front row, which was our main objective," said the 23-year old.
"Jorge [Lorenzo] had a great lap this morning that I believed would be difficult to match, but I was able to find a good reference that helped me during the qualifying session.
Marquez' lap time was not only quicker than the blisteringly hot Jorge Lorenzo, but made all more impressive as he have to navigate both Valentino Rossi and Pol Espargaro in the final two turns whilst on his flying lap. Overtaking Rossi on the inside and then slotting in behind Espargaro, Marquez used the traffic to his advantage as he helped drag himself across the line.
"Pol [Espargaró] and Valentino [Rossi] were in front, and I was able to take advantage of their slipstream and overtake them in the final corner without losing time," he said.
https://twitter.com/GP_Xtra/status/766983760042717184
"In the end we did a very good time and I'm especially happy with how FP4 went, as we took a step forward in terms of our pace. We've completely changed the setup and things have gone much better.
With Marquez winning in the Sachsenring and claiming second at Assen, you would be mistaken for thinking he wouldn't mind rain at Brno. Marquez, however, says that his best hope of a victory tomorrow would be if the circuit is dry for the race.
"If the race is dry tomorrow it gives me hope, because I was finding things tough. If it rains then it will be more difficult, but I'm happy because we're competitive."
Photos via Repsol Honda