Oliveira to reject Gresini and partner Binder at Ajo in 2017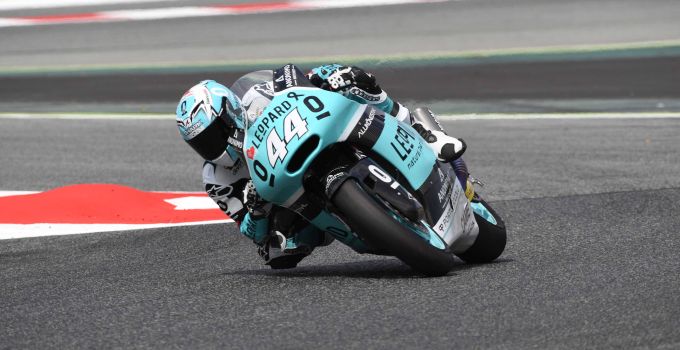 Miguel Oliveira is expected to turn down an approach from Fausto Gresini and instead re-join former team-manger Aki Ajo in the 2017 Moto2 World Championship. 
The Portuguese rider came tantalisingly close to winning the 2015 Moto3 World Championship as part of the Ajo KTM team, before eventually just losing out to his 2016 Moto2 Leopard team mate Danny Kent, by just six points, however it now appears the 21-year-old is set to join his former team boss in the intermediate class of Grand Prix racing, after just one season with the Leopard team. 
Aki Ajo will be running the Kalex KTM Moto2 machine for the first time in 2017 and with his current rider Johann Zarco moving into MotoGP with the Tech3 team, the Finnish team boss is on the hut for new talent. 
With Brad Binder looking to set to claim this years Moto3 World Championship as part of the Ajo KTM team, he was a logical choice, and the young South African was expected to be joined by experienced Swiss rider Tom Lüthi.
The former 125cc World Champion who has been working closely with the KTM factory and was expected to join Ajo's Moto2 team whilst working with the KTM factory, continuing to test the MotoGP machine. However, it now appears that Lüthi won't be joining the Ajo team and Binder will be partnered by his former team mate, Miguel Oliveira. 
German website Speedweek.com are reporting that the Portuguese rider turned down an approach from Fausto Gresini to replace the Aprilia bound Sam Lowes. The Brit signed a three-year deal with Gresini, which would see him move into MotoGP with Aprilia after one further season in Moto2. Aprilia and Gresini had approached Oliveria with a view of luring him in, hoping to persuade him to sign for Gresini, offering a step into MotoGP.
Oliveria however, declined this option, with Ajo able to offer a similar MotoGP chance with KTM joining the grid from next season. The chance to work with Aki Ajo once again appealed to Oliveira who would have to wait until at least 2019 to get a MotoGP chance with KTM, with both Bradley Smith and Pol Espargaro on two-year deals with the Austrian factory. 
Photos via Leopard Racing and Ajo Motorsports