Lorenzo: The wall is very close and could be dangerous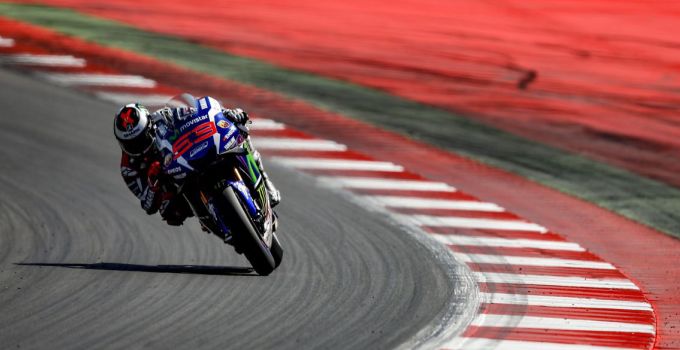 Reigning MotoGP World Champion Jorge Lorenzo voiced his concerns about the close proximities of some of the walls at the Red Bull Ring after concluding a two day test in Austria.
The Red Bull Ring will host this seasons Austrian Grand Prix and Casey Stoner and Valentino Rossi have already spoken vocally at the close walls at the circuit, something which is even more so in the riders minds after the tragic events of Luis Salom in Barcelona.
A very fast circuit, the close walls has left Lorenzo worried, with not much the circuit organisers can do to move the walls further back.
"The track is beautiful and very fast. The tarmac is good, there are just three or four corners where the wall is very close and that can be dangerous in case of a crash. It's difficult to change this track, but for sure for the future it would be good to try to improve the safety," explained the Spaniard. 
Lorenzo has endured two tough weekends in wet conditions, so the World Champion would've been delighted to see two beautiful days meet him in the Austrian hills.
Lorenzo echoed the sentiments of Valentino Rossi, admitting that the Yamaha is not a well suited bike for the nature of the Red Bull Ring, with long straights and a lot of the track with the throttle held wide open. Despite that, Lorenzo doesn't feel as if he is too far off the pace of the Ducati's.
"The test of speed has been hard, because some of our rivals are fast, it looks like the track is giving them a big advantage, especially in braking stability, acceleration and top speed. They can put in all the power they have at this track and the difference is huge," he said.
"Compared to other competitors we are not so far behind, but there are a lot of rivals, who are all very fast. We will reduce their advantage, but not close the whole margin, because they are so fast. With the bike we have – the balance and the electronics – we have to find the best setting for all the aspects and go as fast as possible.
"Compared to yesterday, today was better, because by riding all day the track was gaining grip and we were able to go a little bit faster. We also tried many things on the bike and some of them improved, so again I could go a little bit faster."
Lorenzo ended the first day an eye opening 1.4 seconds behind Andrea Dovizioso's best time, with more laps under his belt, the World Champion managed to end the second day just 0.9 behind the best time of the day set by Andrea Iannone.
"Finally we were not 1.4s from the fastest one, but nine tenths. It's a little improvement and we are still far behind, but let's see if we can do another step in the race weekend. We will have to see what the weather does and which tyres Michelin will bring for the GP. Maybe they won't bring the tyres that we tried here. Let's see if they have less grip or suffer more graining. The one they keep may not be the best, but should be safer for a long race. Let's see how we feel in one month's time."
Photos via Movistar Yamaha