Alex Rins' future looks between Suzuki and Tech3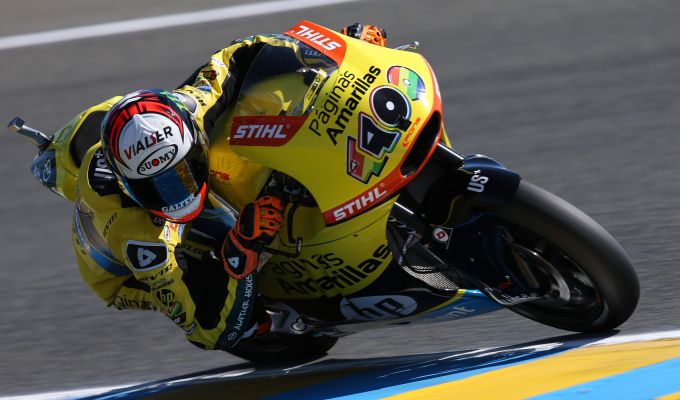 The future of Moto2 front-runner looks to be as either a factory Ecstar Suzuki rider or as part of the satellite Monster Energy Tech3 Yamaha team.
The Spaniard has made little secret of his desire to obtain a factory contract for 2017, and Suzuki are currently the best option to offer him the contract he craves.
Last week Suzuki confirmed the signing of Italian Andrea Iannone to replace the Yamaha-bound Maverick Viñales, but are currently undecided over who they will have to partner 'the Maniac'.
Suzuki has shown real progression in 2016 and is only expected to go from strength to strength as the season progresses. Viñales claimed Suzuki's first podium in nine years and Davide Brivio and Suzuki bosses are expecting more to follow from both Espargaro and Viñales.
Despite being a solid rider, the Italian Suzuki management – headed by Davide Brivio – is pushing for the signing of Rins. They consider the Spaniard the next talent off the production line. Rins replaced Viñales in Sito Pons' Páginas Amarillas Moto2 team, and Brivio would like to see the 20-year-old consider to follow in the footsteps of Viñales into the factory Suzuki team.
Rins is currently second to Sam Lowes in the Moto2 World Championship, just two points behind the Brit who will find himself in MotoGP as part of the factory Aprilia team in 2017.
Despite Brivio and the trackside management are pushing for Rins, the Japanese managers back at the factory are said to be reluctant at changing both riders, and are thus keen to be keeping Aleix Espargaro for a third season. They argue that the continuity shown and the presence of a familiar rider and crew will aid the whole team, rather than starting afresh with two new riders every two seasons.
Should the managers be convinced that Rins is the man to take Suzuki forward, there are still potential hurdles that will need overcoming should Rins end up riding for Suzuki next season.
Suzuki are said to be considering offering Rins a two-year contract, with a further two years as part of a team-option. After having Viñales on a 2+1 years contract and seeing him work his way out of the extra year, Suzuki are cautious over nurturing another talent before seeing him just ship for a more proven bike.
Speaking to German media in Mugello, a Suzuki manager said that they don't want to invest in another youngster to loose him to the competition.
"We don't want to again invest in another newcomer, build him two years, as we did with Viñales and then him lose him to the competition," a nameless Suzuki manager told speedweek.com.
Rins is said to be very against the idea of committing to Suzuki for four years. At just 20-years-old the idea of being tied to a bike for four years, even a factory MotoGP bike, is something that Rins is looking to avoid, even saying he could stay in Moto2 for a third season if the right offer doesn't present itself.
"At 20, Alex can drive even a ride in Moto2 for a third year," Rins' father told Speedweek after Sunday's race in Mugello.
If Suzuki isn't right or elect to keep Espargaro, Tech3 are still expected to be the second option for Rins.
Bradley Smith has signed for the KTM factory and Pol Espargaro has the choice of Avintia Ducati or the KTM factory on his plate, leaving the second seat alongside recently signed Jonas Folger up for grabs.
Despite not being in the factory team, Yamaha are willing to offer Rins a factory contract, much like the current deal Pol Espargaro is signed up to. Should Rins impress, as part of the Tech3 team on a two-year contract, there is absolutely no reason why Yamaha wouldn't promote him to replace the eventual departure of Valentino Rossi.
Whilst he may have a factory contract to ride for the satellite team, Yamaha Motor Racing Team Manager Lin Jarvis did reveal that he Rins was never in consideration to replace Ducati-bound World Champion Jorge Lorenzo on the second factory Yamaha seat.
"We never contemplated bringing Alex Rins in next Valentino Rossi in the factory team. I never considered whether we should entrust Alex Rins with this place," said Jarvis to speedweek.com.
"It would be a brave decision by any top-factory team. When I speak of a top works team, I mean those who fighting for the title. Alex Rins has clearly stated that he would go directly into a factory team.
"Frankly, the bike which we use at Tech3, is a factory bike. They are very, very similar to the works machine. If Alex Rins decides to come to the Tech3 team, he would be most welcome there. He is a very interesting, young rider.
"But I don't know his intentions. Perhaps he'll still find a factory bike for 2017. Perhaps he rises into MotoGP next year. Perhaps he'll have to wait. I don't know."
Photos via Pons Racing