Rossi: I could have fought for the victory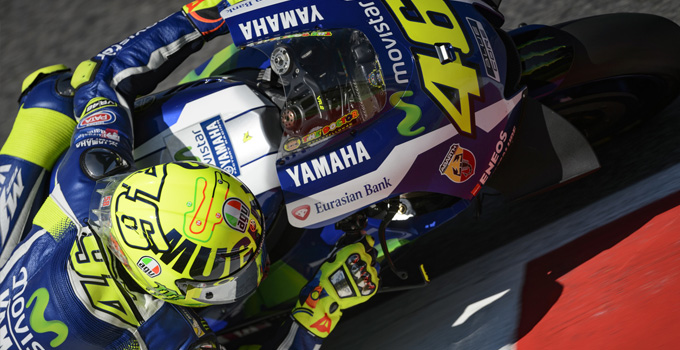 Valentino Rossi was confident he could have challenged for the victory today in Mugello, had his engine not blown up on the eighth lap of this afternoons Italian Grand Prix. 
The Italian was starting from pole position for the first time since 2008 at Mugello and his eight practice starts from Friday proved to do just the trick with a great launch. He was out-dragged to the first corner by his team mate from the second row and proceeded to follow the Spaniard for the opening stages of the race.
Rossi did have one go at taking the lead from Lorenzo, but he ran deep into turn one whilst making the move allowing Lorenzo straight back past. 
The partisan yellow crowd were robbed of what looked to be a classic between Rossi and Lorenzo when on lap eight the engine in Rossi's Yamaha M1 blew up, forcing the Italian to retire from the race.
Rossi was obviously disappointed to have to retire from his home Grand Prix, but even more so as he thinks he had the pace to challenge Lorenzo for the victory.  
"It's a great shame, because it's always a pity when you have a problem with the bike in the race, but here even more so because it was in Mugello in front of all the crowd," said the nine-times World Champion.
"I was very competitive in the race and very fast, I had a good start and I was there. I think I could have fought for the victory because I had a very good feeling and a strong pace."
https://twitter.com/GP_Xtra/status/734361642859892736
Rossi's second DNF of 2016 means he now sits 37 points behind his team mate after just six rounds of the season, something that wasn't lost on Rossi when talking after the race.
"It's also a great shame because this zero points score for the championship weighs very heavily. Lorenzo and Marquez finished first and second, so now the distance is hard, but it's like this," Rossi said. 
"The positive thing is that I was competitive over the whole weekend and I was strong. I could have fought for the victory, so now we wait for the next race in Montmelo. Catalunya is one of my favourite tracks, I like to race there a lot, so I think we will have a good potential, but now we have to wait ten days and after that we will see."
Photos via Movistar Yamaha