Marquez: Even with the slipstream I wasn't able to overtake Jorge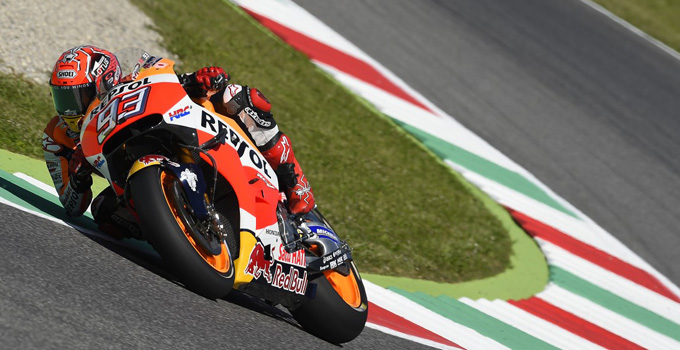 Marc Marquez was surprisingly upbeat with his second place finish in Mugello, despite being pipped to the line by Jorge Lorenzo by just 0.019 seconds. 
Marquez managed to get off the line well, and after disposing of Aleix Espargaro, the Spaniard set about and closed the gap to to the early leaders Lorenzo and Valentino Rossi. Once Rossi's engine blew up the Spaniard set about hunting down his compatriot. 
Marquez stalked Lorenzo and after two attempted passes, Marquez eventually got a move to stick halfway around the final lap. Marquez led Lorenzo until the Biondetti chicane where Lorenzo fought back, only for Marquez to snap right back and retake the lead heading into the final corner.
Marquez appeared to have the World Champion covered, however Lorenzo managed to get right in the slip stream of Marquez, eventually passing him just before the finish line.
Despite missing out on the victory by just under two hundredths of a second, Marquez was happy to finish on the podium and continue to build towards his championship pursuit. 
"Today we made a good race, we managed to get very close, and finally we made the podium which is always positive, but even with the slipstream I wasn't able to overtake Jorge," said the two-time MotoGP World Champion.
"We struggled throughout the weekend with acceleration and top speed. I tried to give my all and I did the best race I could do today, I really tried everything. I took several risks in an attempt to win, but on the home straight Jorge slipstreamed me.
"Now we have to keep working on acceleration because we're still lacking a little in that regard. Honda is working hard back in Japan, as we do at the tracks and we'll try to take a step forward ahead of the next race."
Marquez is still second in the MotoGP World Championship standings, trailing Lorenzo now by ten points, but he is 27 ahead of third placed Valentino Rossi with his home grand prix of Catalunya next up in two weeks time. 
Photos via Repsol Honda