Lorenzo: If I was battling with Rossi or Iannone I wouldn't have won today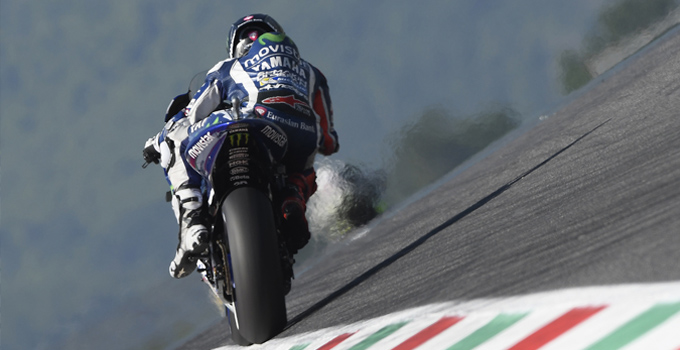 Reigning MotoGP World Champion Jorge Lorenzo beleives that he wouldn't have won today's race if it was Valentino Rossi or Andrea Iannone leading onto the home straight and not the Honda of Marc Marquez. 
Lorenzo managed to pip compatriot Marc Marquez to the finish line by just 0.019 seconds after out-dragging the Repsol Honda man after a classic last lap which saw Marquez appear to have the victory in his pocket. 
Marquez had been very vocal in his disappointment and unhappiness at Honda's accelerating issues and they were evident today. In the slipstream of the Honda, Lorenzo managed to surprisingly catch and pass Marquez for his fifth win at Mugello in the last six years. 
The series points leader said that if it were Rossi or Iannone on their respective Yamaha or Ducati's that he wouldn't have been able to achieve what he did, putting it down to a Honda deficiency as much as something special from himself. 
"Today, if I had been fighting with Rossi or Iannone, I wouldn't have won, it was a crazy battle," explained the three-time MotoGP World Champion.
The Spaniard did say that he was surprised that both Iannone and Viñales weren't also challenging for the victory with both of them start on the front row ahead of Lorenzo. Both Iannone and Viñales suffered difficult starts and Viñales race was further marred by an electronic problem. 
"It was an unexpected race, because we thought for example that Iannone and Viñales, who had a very high pace, would be fighting until the end for the victory, but in the end it was Marc," he said.
"He didn't look like he had the pace in the practice sessions, but he was following me the whole race. I tried to escape, pushing so much on the changes in direction and I used a lot of energy and I thought I maybe I didn't have enough to fight with Marc for the victory, because with him riding behind me he maybe saved more energy and was more powerful at the end, but my luck was the engine this time."
Going into the final corner, Lorenzo though back to an experience he had back in 2005. Whilst in the 250cc class, Lorenzo managed to pass the San Marinese rider on the last lap and he channeled his inner-250 self again to try the move once more.
"When I stayed behind him I thought I was losing the race and tried a bit of a crazy move that I pulled on De Angelis in 250cc in the race in 2005. This memory was in my head, so I said to myself "Why not try the same?" and did it," he explained.
"I passed him but went wide and he overtook me again. In the last corner I tried again under braking, but he closed the door so much that if I had released the brake maybe we could have touched and crashed together, so I decided to stay in second place and make a lot of speed in the last corner and exit with the slipstream and try.
"When I exited the corner I thought I was losing the race, but my bike caught up with him so much, it was a surprising win. 
"In Moto3 we often see races like this, but in MotoGP this kind of finish doesn't happen often."
Lorenzo's lead at the top of the MotoGP World Championship standings is now ten points over Marquez. He is 37 points ahead of third placed Valentino Rossi after the Italian's engine blew up on lap eight of todays race.
Photos via Movistar Yamaha