Marquez: Honda are working hard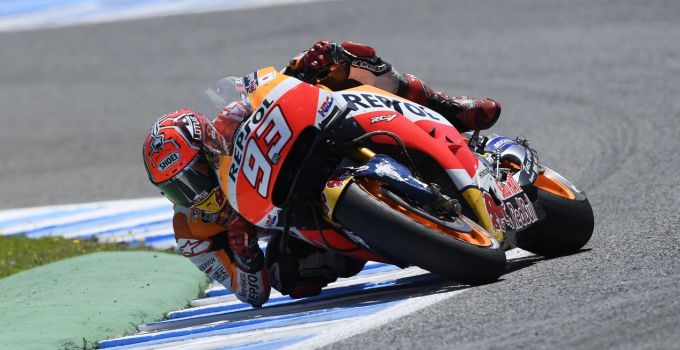 Marc Marquez knows that Honda have work to do if they're to mount a serious challenge heading into the next two rounds in Mugello and Barcelona. 
Marquez saw his World Championship lead vanish after crashing out of third place at the last Grand Prix in Le Mans. After crashing out of the race, Marquez said that his Honda RC213V was at a disadvantage under acceleration when racing against the Yamaha, Ducati and Suzuki. 
This isn't a new problem for the Honda with complaints over power delivery and acceleration for over two years now. 
Despite the issues they're still faced with, Marquez knows that his Honda engineers are working hard to improve other aspects of the bike, where they can have a more direct impact.
"We have work to do but I believe that if we improve the acceleration, our bike is one of the best out there," said the two-time MotoGP World Champion. It's not easy to get it due to the actual rules that prevent us from working on the engine, but I know that Honda is working hard on every other area of the bike and I believe in them."
Marquez will arrive at Mugello excited about the next two races, happy with the advancements of his bike over the past two seasons, giving him a chance to stand on the podium this weekend. 
"I look forward to the next two races: we need to focus and concentrate on Mugello and Montmeló which are two very different tracks from both Jerez and Le Mans," he said.
"They require more corner speed and if two years ago I would have said that they were demanding tracks for us now I think that maybe they can be better.
"We remain positive and in Mugello we will go for the podium as a target but we will see how the situation will shape up and in case we will try to get the most the conditions will allow us to."
Photos via Repsol Honda