Viñales: We can fight and be close to the top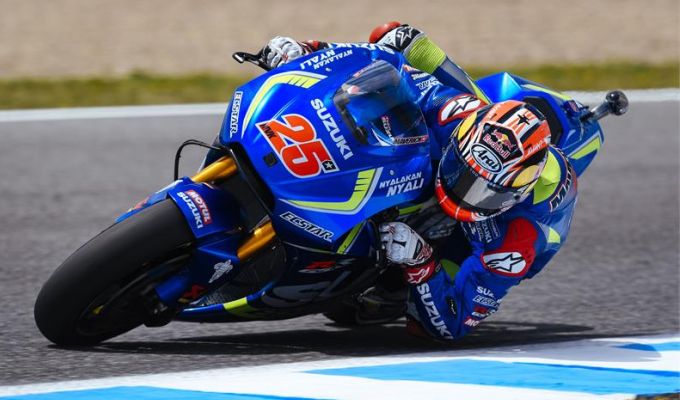 MotoGP's newest podium finisher, Maverick Viñales is still ecstatic after his historical third position at Le Mans, as the Suzuki rider prepares for this weekend's Italian Grand Prix in Mugello.
Last time out the Spaniard secured his first MotoGP podium and the factory Suzuki's first in nine years, their first since making their full-time return to the sport in 2015.
Viñales was the benefactor to crashes to Andrea Iannone, Andrea Dovizioso and Marc Marquez who all crashed whilst ahead of Viñales when crashing. In spite of this, the Spaniard was obviously delighted to get the first, of what he is hoping is many MotoGP podiums.
"I can still feel the emotions of 10 days ago in France, the first podium both for me and Suzuki was unbelievable and gave me even more motivation," said the 21-year-old.
"The weekend hadn't been easy at all, we struggled to find a good balance and efficiency, but finally with my crew, we found a new set-up for Sunday that allowed me to find some more confidence. It's a good feeling, we keep on progressing day after day and this is a good reassurance."
Despite getting that first podium, Viñales is fully aware that there is work to be done this weekend in Mugello. However, the Spaniard is also very confident that with the right set-up he can challenge the usual podium finishers at the front of the field.
"Of course we still need to work hard, we have so much potential to be exploited and we must stay focused. Mugello is a very nice track, so fast and technical, it should suit our characteristics. We have seen that by working hard we can fight and be close to the top; and this is still our objective," he said.
Viñales will use tomorrow's pre-event press conference to confirm that this past weekend he flew to Italy to  officially sign a deal which will see him replace the outgoing Jorge Lorenzo in the Movistar Yamaha team, partnering nine-time World Champion Valentino Rossi for 2017 and 2018.
Photos via Suzuki-Racing.com