Iannone hoping to match last seasons performance in Mugello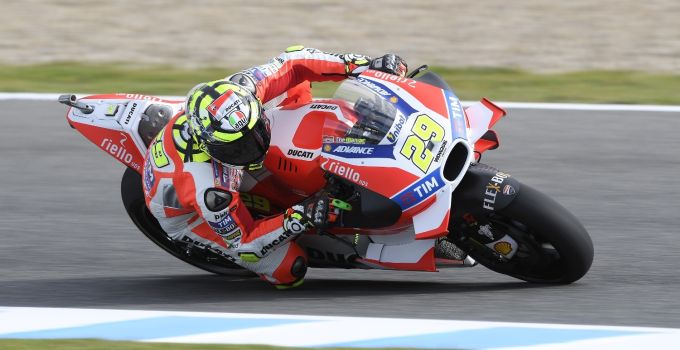 Fresh on the back of finding out he won't be retained at Ducati for 2017, Andrea Iannone heads home to Mugello hoping to at least match last years career best second place finish. 
Ducati confirmed earlier this week that they had indeed re-signed Andrea Dovizioso, leaving Andrea Iannone out in the cold. The decision was taken thanks in no small part due to Iannone's torpedo move on Dovizioso in the last corner at the Argentine Grand Prix.
Fortunately for Iannone he has a large offer on the table from Suzuki, an offer he is fully expected to take up with official confirmation possibly coming as soon as tomorrow, replacing the Yamaha bound Maverick Viñales.
2016 has been a tough season thus far for Iannone, coming into the season filled with confidence and with the weight of Ducati expectation on his shoulders, the Italian has crashed out of three of the opening fice races, claiming only one podium in Texas as a result, currently leaving him tenth in the MotoGP World Championship standings.   
With the sixth round of the season at his home circuit of Mugello, Iannone is hoping to kick-start his season with a performance and result similar to last seasons Italian Grand Prix which saw him take pole position and finish as runner-up to race winner Jorge Lorenzo.  
"Finally we are going to Mugello and I feel sure we can also be competitive at our home circuit. Last year's GP was one of the best moments of my career: I set pole and finished runner-up in the race, and I really hope I can score a good result this year," explained the Italian.
"With the performance and the potential we have shown so far, I am convinced that if we continue to work well, we're going to get some good results soon."
Photos via Ducati Corse