Ducati refuse to rule out a MotoGP move for Chaz Davies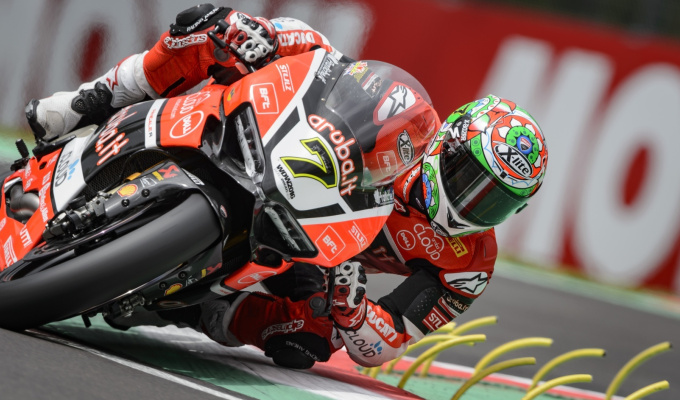 Ducati have refused to rule out the possibility of offering Factory Superbike rider Chaz Davies a MotoGP seat in 2017. 
The Welshman is currently sat second in the World Superbike Championship aboard the Factory Panigale, 35 points behind reigning World Champion Jonathan Rea after claiming double victories in both Aragon and Imola last time out. 
With reigning MotoGP World Champion Jorge Lorenzo already signed up at Ducati for 2017, there has been a lot of speculation as to who will join the Spaniard. It is still widely expected that one of the current factory Andrea's will partner Lorenzo, however, it hasn't been ruled out that Ducati might promote Pramac rider Danilo Petrucci to partner the three-time MotoGP World Champion. 
With Petrucci's name in the hat, talk has now turned to who could replace the Italian in the main satellite Ducati team. After dominating both races in Ducati's backyard of Imola, Davies has seen his name get linked with a move back to the Grand Prix paddock.
The 2011 World Supersport World Champion has experience with a Ducati in MotoGP after three replacement rides in 2007, after three and a half seasons riding in the 250cc class. Davies is also a very good friend of Ducati test rider and global ambassador Casey Stoner.
At 29, Davies is probably a little older than Ducati would be looking at as a project rider, however Ducati Corse General Manager Gigi Dall'Igna more than left the door open for a possible switch for Davies.
"Of course there's a chance that Chaz goes to MotoGP with us," the Italian told German website Speedweek.com. "We will talk to him and see what he wants to do." 
Sporting Director Paolo Ciabatti was a little more candid about Davies prospects of moving into MotoGP, however he also refuses to totally rule out the idea of the Welshman making a return to the Grand Prix paddock.
"Chaz is very important for Ducati. Ducati have done a lot to resolve all the disadvantaged, of which he has complained of, such as poor engine performance," said Ciabatti.
"We hope that Chaz stays with us and therefore, we want to offer him the best career opportunities. It's too early to talk about MotoGP and 2017 and MotoGP. The priority for him and us has to be winning the Superbike title."
Despite the choice being predominantly his, Davies remained non-committal insisting that his sole focus is on this seasons World Superbike championship. 
"MotoGP is something quite different from Superbike. But Ducati is Ducati, they put the same technicians behind it," he said. "It's nice to see both teams growing together and the good results. 
"But I don't want to talk about my future, I cannot say what it has in store for me. My job is to keep pushing and making-up points."
Photos via Ducati Corse