Rossi: I think this was the perfect weekend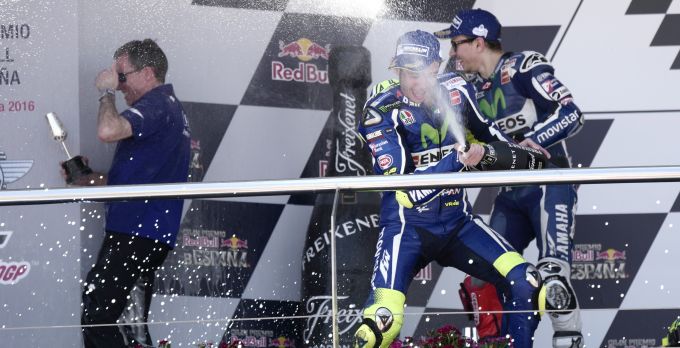 Jerez MotoGP race winner Valentino Rossi said that this weekend was a perfect weekend as he claimed his first victory of the 2016 MotoGP season.
Rossi converted his first pole of 2016 into the perfect race, leading Sunday's 27-lap race for every lap for the first time in his illustrious 20-year career, managing the gap and leaving team-mate Jorge Lorenzo and Repsol Honda's Marc Marquez with no answer for his pace.
This weekend was an usual one for Rossi, with the Doctor demonstrating blistering pace right from the offset this weekend, ending Friday morning practice third place. Rossi's pole came as a surprise, but his race pace looked unbeatable all weekend.
"I think that this was the perfect weekend," said the Italian.
"We started to go faster from Friday morning and we worked very well. The bike, in the race, was fantastic and we worked very well with the team so I have to say 'thank you' to the whole Movistar Yamaha MotoGP team, especially my crew.
"I had a good pace and a good start and felt good with the bike from the beginning, so I could push. Sincerely, it was a special taste to have a win like this, so thanks a lot."
All three of the podium finishers elected for the same medium compound Michelin rear tyre. Both Lorenzo and Marquez were vocal of their issues with the rear tyre, and both said they had to back off in order to finish. Rossi confessed he was always faced with tyre issues, but managed his tyre and maintained the gap back to Lorenzo.
"We had a lot of spin on the straight and this is very strange," explained the Doctor. "It also happened yesterday in practice and I feel today a little more." 
"In the last 10 or 12 laps, the tyre was spinning very much, especially on the front straight and I started to worry, so I slowed down, because I was worried that the tyre had started to become too hot and start to cause the vibrations. I was on the straights with half throttle so I didn't spin so I slowed down a little bit. The good thing is that anyway the bike and the tyres work well in the corners so I can stay in the .8's or .9's and I understood it."
Rossi now has 113 Grand Prix wins, just nine behind Giacomo Agostini in the all-time victories standings. Today's victory also leaves Rossi just 24 points behind Marc Marquez in the 2016 MotoGP World Championship standings.
Photos via Movistar Yamaha