Baz lucky to walk away from 180mph horror crash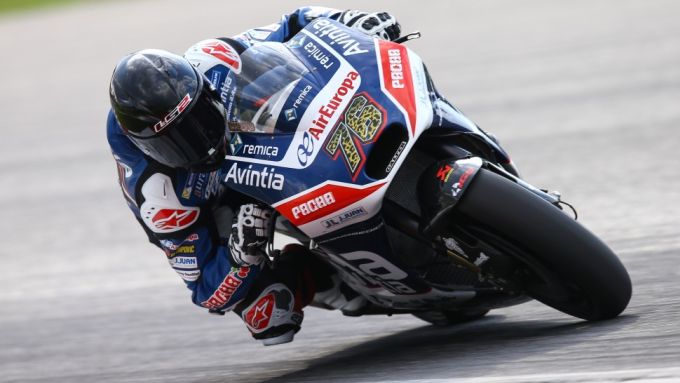 Loris Baz was extremely fortunate to walk away from a 180mph crash as the rear Michelin on his Avintia Ducati blew up as he was riding down the home straight during the second afternoon of testing at the Sepang International Circuit in Malaysia.
Baz was starting a flying lap when his soft rear tyre let go in spectacular fashion, sending him down the home straight. Fortunately Baz managed to walk away from the accident with nothing more than a bruised elbow.
The incident case a delay of over an hour and Michelin quickly pulled the soft rear tyre from the remainder of the test. 
"Fortunately, he walked away without injury and after analysing all the data of the bike, no mechanical failure was detected on his Ducati Desmosedici GP," read a statement from Baz' Avintia Ducati team.
"It is now up to Michelin to analyse in detail what was the cause of this tyre failure."
This is very scary… Shot of the rear tyre that exploded on Baz earlier today pic.twitter.com/NfjHOcrfNl

— GPxtra (@GP_Xtra) February 2, 2016
The crash ended the Frenchman's day as he continues to adapt to his new Ducati. His best time was a 2'02.611 which was good enough for 18th place overall. 
"The start of the day was good. We used the soft tyre to try to improve the lap times and, although the lap was not incredible, we were able to improve the lap time from yesterday," said the 23-year-old.
"But then we had a problem with the rear tyre and I crashed out at 290 km/h and my bike was destroyed. Fortunately I was unhurt, but you always loose energy after this kind of accident, because even if you don't have anything serious, you feel all your muscles like if you have been training during 20 hours.
"My mechanics made a great job to put the bike back on track for the last two hours. It was not bad, but I felt a little bit tired riding the bike and I didn't want to push and crash again. But I matched the same lap time from yesterday testing some suspension parts that I didn't like too much."
Here's a fan capturing the crash from the grandstand. It gets scarier the more you see it pic.twitter.com/AYfsQt4Rrq

— GPxtra (@GP_Xtra) February 2, 2016
Baz' horror crash from circuit CCTV shows just what happened to the Frenchman https://t.co/LuexBrWrMt

— GPxtra (@GP_Xtra) February 2, 2016
Photos via Avintia Ducati