Lorenzo: I'm the only man who's beaten Honda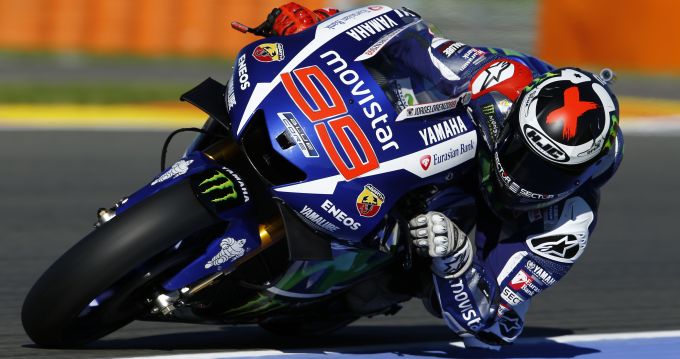 MotoGP World Champion Jorge Lorenzo has asked why he can't win the title again this season, after reiterating the fact he is the only non-Honda winner of the MotoGP World Championship in the last six years.
Lorenzo's third World Championship in 2015 saw him as the fastest, if not the most consistent rider of the season as he managed to prevent Spaniard Marc Marquez from winning the World Championship for the first time since entering the sport in 2013. 
Yamaha look to be slightly behind rivals Honda and Ducati as we near the first test of 2016 in Malaysia, with attention remaining on the 2015 season right until its climax in November last year. With next weeks test providing a clearer indication than the end of season tests of 2015, Lorenzo finds himself asking, why not me, again?
"We have to remember that I'm the only rider since 2010 who's managed to beat the Honda riders. In 2012 I beat Casey, and in 2015 I defeated Marquez," the Spaniard said whilst speaking with German website speedweek.com.
"In the last six years only we've been able to beat them. It wasn't easy, especially since Marc came into the MotoGP class. I thought that he would win the title for five or six years in a row; but we managed to beat him.
"That makes me proud and gives me a lot of motivation. I now have the confidence that I can do it with the Yamaha and as a rider. If we did it in 2015, why can't we repeat it in 2016 or 2017?" he said. 
2016 will see huge changes in the MotoGP class. Gone are the Bridgestone tyres and factory electronics. From 2016 all teams will be forced to use new Michelin tyres and Magneti Marelli standard software. The early tests showed the riders and teams will face an uphill struggle as they attempt to gain valuable data for the data and have to learn new riding techniques to combat the much less stable Michelin front tyre. 
Many riders have expressed their unhappiness at the new tyres and electronics. Jorge Lorenzo however, thinks that the new tyres and electronics will actually play into his hands rather than hold him back. 
"I think it will be more difficult now to ride the motorcycles. That's helps the riders with better riding technique. The electronics will help now less, because the throttle is now fully open for a shorter time than before. That means you have to deal with a sensitive throttle. As a result of this, I will have fewer problems than riders who're more aggressive with the throttle or their bike," he said.
"Of course with the new front tyre we will see more than last year; the changes are very big. It'll be very interesting to see how the riders and bikes will be change during the tests and how much the technicians were able to improve their bikes since Valencia test."
Photos via Movistar Yamaha