Valentino Rossi drops CAS appeal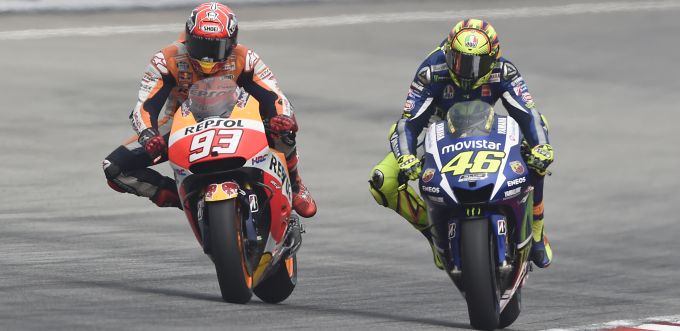 Valentino Rossi has dropped his appeal against Race Direction with the Court of Arbitration for Sport following the incident in Sepang last season. 
Rossi had gone to the highest authority in sport in an effort to get his three penalty points suspended. His penalty points were the official reason Rossi was forced to start from the rear of the grid during the deciding final race of 2015. 
Shortly after the Italian lodged his official complaint to the CAS, he added an 'urgent application' to try and get his penalty suspended for the final race of the season, delaying any potential last position start until the season opener in Qatar. 
However, with that appeal rejected shortly before the weekend in Valencia and with Jorge Lorenzo wrapping up the 2015 MotoGP World Championship, the nine-times World Champion has conceded defeat and now ended his appeal. 
"Valentino Rossi has withdrawn the appeal filed at the Court of Arbitration for Sport (CAS) against the FIM Stewards' decision to impose 3 penalty points on his record following an incident with another rider during the Shell Malaysia Motorcycle Grand Prix race held on 25 October 2015," said a CAS statement.
"In his appeal to the CAS, Mr Rossi sought the annulment of the penalty, or at least a reduction from 3 points to 1, since on the basis of the FIM Regulations, a rider with 4 penalty points must start the next race from last grid position. Together with his appeal, Mr Rossi filed an urgent application to stay the execution of the challenged decision in order not to lose his place on the starting grid at the final event of the season which was held in Valencia/Spain on 6-8 November 2015.
"On 5 November 2015, the Sole Arbitrator appointed by mutual agreement of the parties, Prof. Ulrich Haas (Germany), dismissed Valentino Rossi's request to stay the execution of the challenged decision. The Sole Arbitrator found that the conditions to grant the stay were not met, and accordingly, Valentino Rossi began the Valencia race from the last grid position.
"Mr Rossi has now informed the CAS that he does not wish to continue with his appeal. Accordingly, the arbitration procedure has been terminated and the FIM decision will continue to remain in force."
Rossi's three penalty points will remain on his 'license' until at least Misano next season, where he picked up the first of his penalty points last year. 
Photos via Movistar Yamaha