Valentino Rossi appeals to the Court of Arbitration in Sport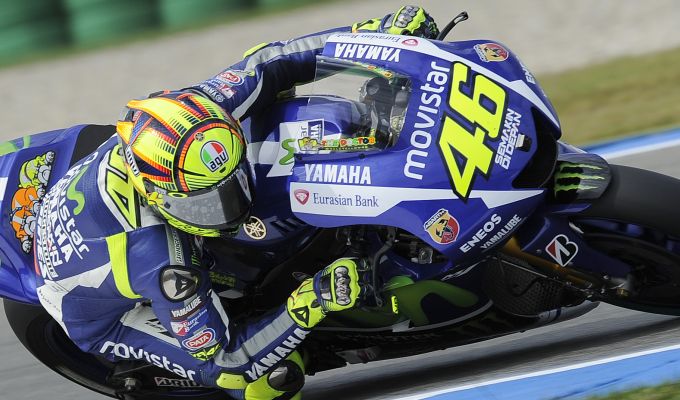 Valentino Rossi has made a desperate lid bid to get his Malaysian penalty over turned by appealing the decision to the Court of Arbitration in Sport.
The FIM confirmed the news this lunchtime that Rossi had indeed gone to the highest legal powers in world sport as he tries to get his three penalty points he got from the clash with Marquez over turned before next weekend's Valencia Grand Prix. 
The CAS deal with legal battles within sport and have dealt with a range of topics from football transfers to doping allegations in athletics and cycling. Usually the appeal process from the CAS can take in excess of a year. Rossi has appealed for a suspended sentence until his case can be heard.  The verdict on the suspended sentence will be given on the Friday of the race weekend, in seven days time.
The statement issued by the FIM reads: 
"On the basis of Article 3.4.2, para 3 of the FIM Road Racing World Championship Grand Prix Regulations, Mr Valentino Rossi has filed an Appeal against the decision taken by the Race Direction of the Shell Malaysia Motorcycle Grand Prix in Sepang, penultimate round of the FIM MotoGP Grand Prix World Championship, and confirmed by the FIM Stewards, to award 3 penalty points to Mr Rossi following an incident on Turn 14.
"In appealing to the Court of Arbitration for Sport (CAS), Mr Rossi seeks annulment or reduction of the penalty. He further requests stay of execution of the decision in accordance with Article R37 of the Code of Sports-Related Arbitration. 
"The FIM will not comment any further at this time."
Rossi will be hoping that his sentence will be suspended, and that if he is still found guilty he will then serve his punishment at the first race of the 2016 calendar in Qatar. If the CAS deem the punishment dished out by the FIM at too lenient then there is scope for them to increase the penalty given out. 
It could get messy if the CAS decide to suspend Rossi's penalty for Valencia, allowing Rossi to win the World Championship, only to then comeback after further review and uphold his initial penalty. It is highly unlike this will happen, with the decision on Friday the most important one in the case. 
Once a decision has been made final, there is the chance for a third party to appeal the decision. Essentially meaning should Rossi be cleared of his penalties, one or both of Jorge Lorenzo and Marc Marquez/Honda would be able to appeal the case, if they can offer more evidence to the case.
This news comes a day after FIM President Vito Ippolito issued a statement expressing his disappointment at how the traditions and pride of the sport had been poisoned by the recent events, and hoped that everybody could carry on in a sporting manner. 
Photo via Movistar Yamaha