Dovizioso: Only the rider knows how hard he's pushing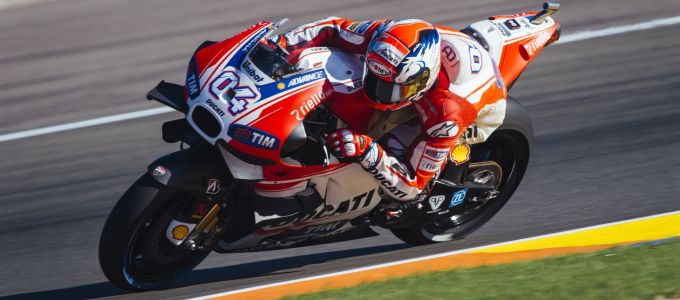 Factory Ducati rider Andrea Dovizioso has weighed in on the current debate on MotoGP, insisting that only a rider knows how hard he is pushing.
The end of the 2015 season has been marred with accusations by Valentino Rossi that Marc Marquez was intent on protecting Jorge Lorenzo in order to help him win the 2015 World Championship. Rossi's frustrations boiled over Sunday evening after re-watching the race, and seeing Marquez follow Lorenzo home without making a single attempt to pass his compatriot. 
Despite not wanting to really get involved in the debate that has the whole MotoGP world talking once again, Dovizioso, who has raced Honda's, Yamaha's and now Ducati's did say it was strange to see Marquez in a battle for the lead but not attempt a pass.
When asked in his media debrief, Dovi said: "I don't want to speak too much about that. It's true, for us is normal to see Marc fighting a lot in the battle. So to see that, it was quite strange. But only the rider knows exactly the problems they have on the bike. So I don't know if he was on the limit, over the limit, or if he control the race."
You can't know every detail the riders can have. Especially when you have a different bike. This is my experience, because I rode already three bikes, and until you try a bike, you can't know every detail of it.  Also the difference from the morning to the afternoon. The conditions always change. So yes, [other] riders can normally understand and analyse the situation, but it's easy to not see everything. 
"If you have experience of different [bikes], you can know more. But the rules change, the bikes change, so I can't speak about the Honda because it was a long time ago."
Photo via Ducati Corse