Rossi defends his actions in battle with Marquez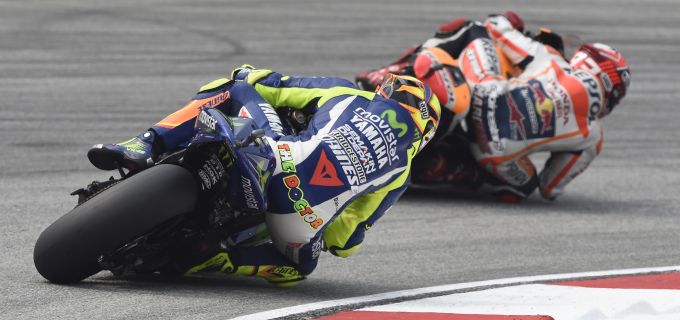 Valentino Rossi has defended his actions during today's Malaysian Grand Prix, insisting he didn't kick Marc Marquez, prompting the Spaniard to fall down. 
The race had tension surrounding it before the lights even went out. Thursday's verbal attack by Rossi on Marquez, which questioned his motives and professionalism, suggesting he was doing all he could to stop Rossi winning the World Championship, as he now can't win it himself.  After some hard, fierce racing, tensions eventually boiled over at a third race distance, when Rossi ran wide to push Marquez off track, but ultimately cause the Spaniard to fall, and retire from the race.
Race direction decided after the race, that the World Championship leader will now have to start from the back of the grid at the season finale in Valencia in two weeks time. Prompting Rossi to claim that Marquez' selfish, sabotage actions have cost him a chance of winning this year's MotoGP World Championship.
"I don't know if I've lost the championship, but it will be very difficult now," said the Italian.
"I think the penalty is too heavy. One point in Misano because I made a mistake on Jorge's qualifying lap when he already had pole position – and I've never taken a point before because normally I am very fair on the track. I did a mistake and for me that was quite heavy already.
"For this, I'm very disappointed for the three points. He [Marquez] won. He decided the championship and he made me lose the championship. I think that he will be very happy."
Whilst sounding almost defeated, Rossi refused to concede the title, but admits it will be hard to achieve what he wants from last place on the grid. 
"I don't know if I've lost the championship, but it will be very difficult now," he said. "These three points give me a big problem for Valencia, because if I am to start from last it is quite impossible. I don't want to make Marquez crash."
Through the whole press conference, Rossi declared his innocence. He admitted to trying to push Marquez wide, in order to kill his momentum heading onto the long back straight. Whilst forcing the reigning World Champion, Rossi's left leg/knee hit Marquez' brake lever, causing him to fall.
"I don't want to make Marquez crash and I don't kick him," admitted the 36-year-old. "If you look at the images, as I did in race direction, frame-by-frame and you see from the helicopter. The helicopter is where you see it more because from the side it looks like I gave him a kick.
"From the helicopter if you see, in slow motion, it is quite clear that I go wide. I don't want to say I do the normal corner – I wanted to go to him, slow down and make him lose time. Because it is the only thing that I can do, because in every braking he overtake me, slow down a lot in the corners and for me he didn't open the throttle on the straights.
"When I slow down, slow down, slow down and I go to cut his line, we touch. He touched me with the handlebar on my left leg and it is for that reason he crashed, because he opened the handlebar on my leg and he crashed.
"But if you go slow, you see frame-by-frame that when I lose the foot on the footpeg Marquez is already down, he has already crashed. First of all, if I want to kick him, I can kick him also 20-30 metres before because we were already close. But especially if you give a kick to a MotoGP rider he don't crash, because the bike is heavy, has a lot of grip.
"He just touched my leg with the handlebar and he crashed. So I'm very disappointed for the three penalty points. I looked at Marquez five or six times on the first laps. I look at him to say 'what you fucking doing? Why you do this another time?'"
Asked whether in hindsight, aggravating Marquez turned out to be a mistake, rather than a psychological battle Rossi has become so renowned for, Rossi admitted he may have incorrectly predicted how Marquez would react. 
"Since Thursday I do not regret, but for sure the reality is that I made Marquez become more nervous and more angry, I made him react in a worse way. But what can you do? If I had said nothing, I think he would have more or less done the same thing," he said.
"I thought that if you say the truth, it would make him think a little bit more, but his reaction was the opposite. Maybe he prefers Jorge. But in the future now I will avoid him."
Photos via Movistar Yamaha