Marquez: Rossi needs to focus on Lorenzo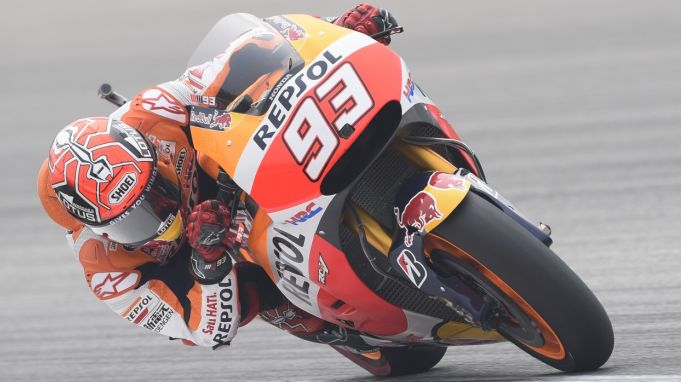 Marc Marquez has hit back at Valentino Rossi's staggering allegations yesterday, by insisting that the Italian should instead focus on his teammate, and not him.
During yesterday's pre-race press conference, Valentino Rossi stunned the room and the entire motorcycle world, by suggesting that the reigning World Champion was deliberately messing with Rossi's race, in order to aid compatriot Jorge Lorenzo. Rossi speculated that Marquez was seeking retribution for clashes between the pair in Argentina and Assen, with a mindset of "if I can't win, neither can you."
Marquez was bemused by the claims, and tried to laugh the allegations off, insisting that if he wanted to help Lorenzo, he would've let him win the race, not overtake him on the final lap. In spite of his defence, Rossi carried on his attack when speaking to the Italian media, questioning if he was Marquez' childhood hero, and asked if he really had posters on him on his wall.
With all the events of yesterday, Marquez admits that 24 hours on, he's still slightly confused as to what Rossi was trying to achieve with his comments.
"Yesterday, I think he surprised us all a bit," he said. "I can understand that he's thinking about the championship and his 11-point [advantage], but in the end has to concentrate on fighting Lorenzo because it is him he must beat to win the championship.
"He must beat him on the track, and I think this year he is fast enough to do that. I do not want to get involved in this war."
Marquez reiterated that his aim for the final two Grand Prix of the season is to win the races. He has no motives to help anyone. He also said he hasn't lost any respect for Rossi, in spite of his claims yesterday. 
"I have always had respect for Valentino, and that remains because I think he's the greatest rider in the history of MotoGP," said the out-going World Champion.
"Naturally, what he said upset me, because I tried 100 percent: in Australia I won and I took away five points from Jorge, so I did not understand what he said. Here, my goal, as always, is to try to win. If I [only] have the potential to come second, I will take that position.
"In short, I will ride my own race because neither I nor my teammate can win the championship."
Photo via Repsol Honda