First championship point for Marquez; Pedrosa looking to bounce back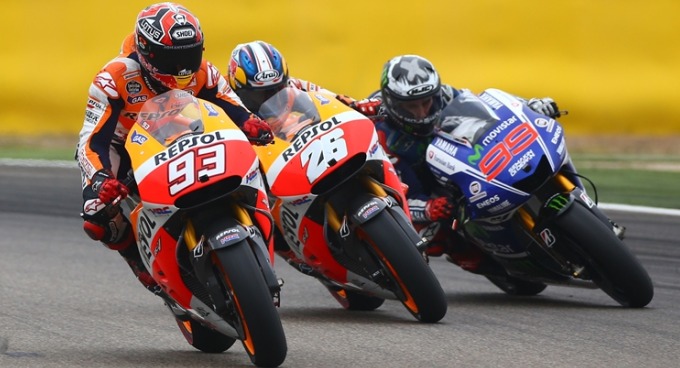 Reigning World Champion Marc Marquez heads to Motegi, with his first chance of claiming his second world title, at the home of Honda. 
The 21 year-old won the first eleven races of the season, but then crashed out in Misano following leader Valentino Rossi. Two weeks later in Aragon he crashed out whilst leading the race meaning he has only claimed four points the past two races. In spite of this he is still in the box seat to claim his second MotoGP World Championship this weekend in Japan.
Should Marquez maintain his 75-point lead this weekend, he will claim his title with three rounds still remaining. He is currently sat 75 points ahead of his team mate Dani Pedrosa, a further three points ahead of Valentino Rossi, whilst Jorge Lorenzo is 90 behind him. 
Marquez insists he has learnt his lessons from Aragon, and says he will try to not think about the championship too much. 
"Aragon was a difficult situation and we learnt a valuable lesson," said Marquez.
"However, we were lucky that we didn't lose points to our rivals and now I know that in Japan it's my first chance to take the Championship.
"I will try not to think about it too much – even if I know it would be great to achieve this on Honda's home soil – we will go there and work hard from day one and treat it as a normal race weekend and push for the victory on Sunday.
"Last year was my first visit to Motegi on a MotoGP machine and it was a very difficult weekend, so we hope to have more dry track time this year to find a good setup!"
His team mate Dani Pedrosa hopes to get over his mistake in Aragon, and get back to winning ways at a track he has an impressive record at over the years. 
Pedrosa has won two of the last three races at Motegi, and finished on the podium in the third, something he hopes he can continue this weekend. 
"Obviously Aragon was a tough race and in the end I made the wrong choice not to come in earlier," said the Spaniard.
"Anyway, we have moved on and now I am focused on Motegi. I always enjoy travelling to Honda's home race, it's a big event for Honda and this always gives me extra motivation to perform well.
"The track has a lot of heavy braking and acceleration points, so a good setup is essential for the braking stability and to get good traction out of the corners. Let's hope the weather is better than last year!"