Magnificant Lorenzo masters Mugello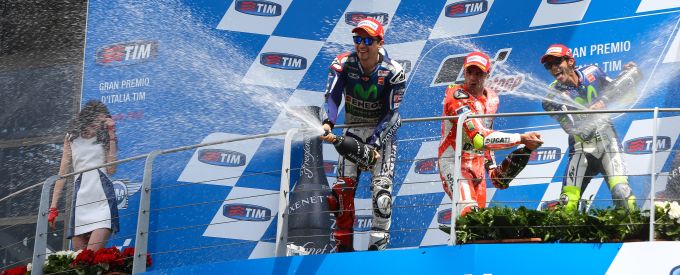 Jorge Lorenzo closed the gap to six points on Valentino Rossi after a dominant victory at Mugello, ahead of Andrea Iannone and Valentino Rossi. Whilst reigning World Champion Marc Marquez crashed out of third place, leaving him nearly 50 points behind Rossi.
Despite starting the Italian Grand Prix from second position, Jorge Lorenzo went into the race at Mugello as the pre-race favourite. After a quick start, and gaining the lead almost immediately, Lorenzo was never caught. Marc Marquez looked as if we may have had a classic in the making after shortly hunting Lorenzo down in third lap, but in reality, the victory was never in doubt. 
By the tenth lap, Lorenzo was seven seconds ahead of the chasing pack, and he controlled the gap, and ended up winning the race by 5.5 seconds, after a now synonymous full lean one handed wave on the final lap. 
"I'm very happy, because I didn't expect to escape with such a big margin, but sometimes it happens that you feel great on the bike," explained Lorenzo after claiming his 36th win in MotoGP.
"Today the track was not so quick so everyone has been a bit slower than we expected. I was the only rider to ride multiple 1'47s, so luckily for me I was gaining six or seven-tenths per lap, this was key to the win of the race.
"If someone would have told me before Jerez that I would win three races in a row, I wouldn't have believed it, but this is what happened. We are in a great shape; Valentino is getting podiums in every race so that means he is strong and also the bike is working really well.
"It seems that this year could be our year, so we have to take advantage of it. It was a different situation when I was twenty-nine points behind than now when it's down to six, but even like that it's difficult to close in on Valentino in points because he is always on the podium. Today Iannone stayed in front of him so it's four points more and as I said six points difference is much better than twenty-nine, but we can't relax and neither can Yamaha. Our competitors are working really hard to fix the problems they seem to have with the stability of their bikes and they will arrive at a point that they will win races, but until then we need to make the most of our potential to improve the bike little by little."
Behind Lorenzo, a battle royal between Valentino Rossi, two Factory Honda's and a pair of Factory Ducati's ensued. Marquez made a sensational start from 13th, and looked to have found whatever has been missing so far this season, before settling down in a fight. Pedrosa and Rossi rode hard to keep it a quintet after bad starts.
More drama unfolded when Andrea Dovizioso, who suffered a very hard crash during morning warm up, was forced to retire with a broken rear sprocket. Moments later, Marc Marquez lost the front end of his Honda RC213V and crashed out.
Andrea Iannone claimed a memorable podium, despite dislocating his shoulder at Mugello just under three weeks ago. Iannone guided the GP15 to a podium at Mugello, much to the delight of the home crowd, and maintained his record of finishing in the top six in every race so far this season.
The Doctor kept his lead in the World Championship, despite seeing it down to just six points after Lorenzo's win. It was a case of damage limitation for Rossi, who found himself down in tenth position after the first lap, before eventually moving through the field, with passes and moves oh so recognisable with the Doctor. Despite being desperate to win at Mugello once more, third was the best he could manage.
Dani Pedrosa continued his recovery from arm pump surgery, with a consolidating fourth position, whilst Bradley Smith beat his team mate to fifth position, continuing his very impressive start to the season. 
Maverick Viñales was seventh, whilst Ducati wild-card rider Michele Pirro beat Danilo Petrucci  and his Yonny Hernandez to round out the top ten.
The MotoGP paddock reconvene in Barcelona in two weeks time.
Photo via Movistar Yamaha